HYDERABAD: Reopened a year ago after a mammoth renovation drive, the footfall at Yadadri temple has shot up to 1.02 crores. In 2014, when the state was just born, annual traffic to the Lakshmi Narasimha Swamy temple was limited to 86 lakhs.
Along with the rush of devotees, Yadadri — touted as Telangana's own Tirupati — has also seen a manifold jump in its wealth. Between March 2022 and 2023 the temple netted its highest annual income of 169 crore, an almost three-time rise from the 61 lakh that it earned in 2014.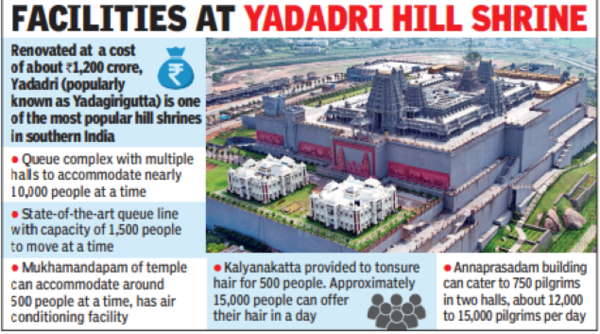 The revenue was generated through sale of darshan tickets, daily rituals, laddus, donations, hundi collection, kalyanotsavams, and other sources like fixed deposits.
"It is delightful to see the footfall of devotees increasing every year. The current traffic is more than what we had expected," said N Geetha, executive officer of Yadadri. She added: "Even in 2021-22, before the temple was refurbished, the footfall was limited to 73 lakhs (approx). The sudden rise is because of the revamping along with amenities that the temple now offers devotees."
The state spent 1,200 crore to renovate the temple premises — complete with black stone sculptures, gold-plated gopurams, Bahubali doors among other embellishments. Elaborate amenities for devotees including waiting halls, laddu counters and two dining halls for annaprasadam (meal) that cater to about 12,000 to 15,000 pilgrims per day,were also set up.
According to officials, these factors have increased daily footfall at the temple that touches 5,000 on most days and shoots up to 40,000 over the weekends. "On special occasions such as Brahmotsavams or other festivals, it can even hit 50,000," said Geetha.
Located about 60 km from Hyderabad, Yadadri has turned into a weekend get away for many residents. Given the growth, officials are confident that the rush and revenue of Yadadri will increase further.