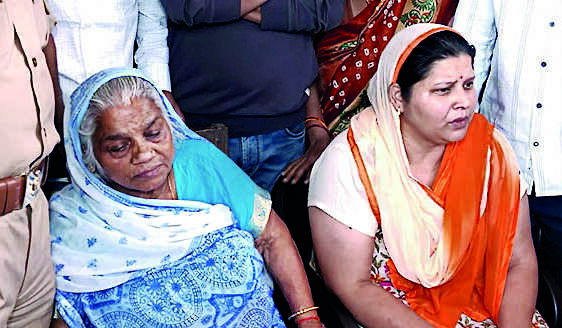 Prayagraj: Family members of Umesh Pal on Tuesday welcomed the MPMLA court verdict that sent Atiq Ahmed and two others to rigorous life imprisonment in 2006 lawyer kidnapping case but demanded death penalty for the gangster-politician and his family members for killing Pal and two of his police gunners last month.
Pal's widow Jaya Pal said: "We seek
justice
from Chief Minister Yogi Adityanath who is like our father. We have been fighting against Atiq and his gang alone and it is time to end the atank (terrorism) once and for all. I will carry forward the fight that my husband was fighting because I want justice and not terror. I want his terror to end." Pal's mother Shanti Pal told TOI: "My son always fought like a lion (Mera beta sher ki tarah larta raha) and Atiq and his brother should be given death penalty for killing of Umesh and two police gunners."
"We cannot fight against Atiq and his family members alone. We request Chief Minister Yogi Adityanath to give justice to us," she said and added Atiq had never respected lawyers and policemen and he managed to get Umesh and two of his police gunners killed from jail.
She added the jailed don was a hardcore criminal and could go to any extent to damage their opponents. Shanti also claimed: "I have lost my three sons, including Umesh and two of his police gunners, and for that Atiq and his family members have no right to live." She further alleged that Atiq and his family members lodged at different jails often get all sorts of facilities and they could go to any length to damage anyone.
Umesh Pal, the prime witness in the 2005 murder of BSP MLA Raju Pal, and his two security personnel were shot dead in Prayagraj on February 24 this year.