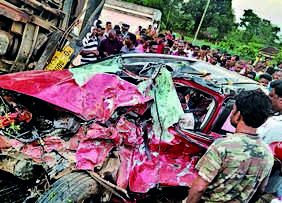 Bhubaneswar: The increasing numbers of road accidents and fatalities in the state have prompted the government to take the help of the automobile manufacturers to train the Driving Licence aspirants on various aspects of road safety.
In a letter to the Society for Indian Automobile Manufacturers (SIAM), the deputy director of the commerce and transport department, Tapan Kumar Mishra, said road safety is a matter of grave concern. "Around 1.50 lakh people lose their lives every year in India due to road accidents and many more suffer debilitating injuries," he said.
Providing data on the number of accidents in the state, Mishra mentioned that more than 5,000 people are killed in road accidents in Odisha in a year. "More than 45,000 people have died due to road accidents in our state in the last ten years. In this context, the Government of Odisha is according top priority to reducing road accidents and fatalities," Mishra said.
The commerce and transport department has sought to utilise the experience and expertise of the automobile manufacturers for improving road safety in the state. It has been decided to impart training to the Driving Licence aspirants on various road safety aspects before the field
test
at the testing ground, the deputy director stated in his letter. The state recorded 5,467 deaths due to road accidents in 2022 up from previous year's 5,081, a rise of about eight per cent.