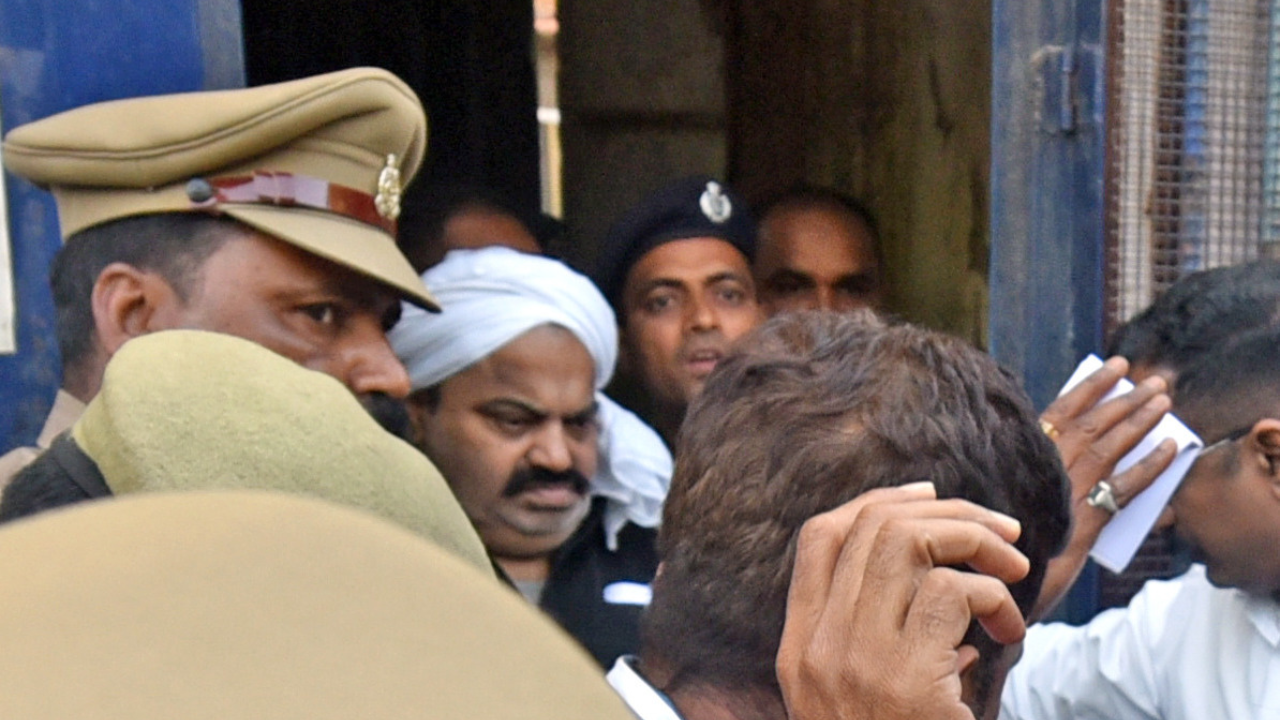 AHMEDABAD: The Uttar Pradesh police on Sunday evening took the custody of mafia-turned-politician Atiq Ahmed from Sabarmati central jail in Ahmedabad and started for Prayagraj where he will be produced before the local MP/MLA court, which will pronounce its verdict in a 2007 kidnapping case on March 28.
The case involves the alleged kidnapping of Umesh Pal, a witness in the BSP MLA Raju Pal murder case in 2005. On February 24 this year, Umesh Pal and two police personnel were killed in a shootout in Prayagraj.
While coming out of jail on Sunday evening, Atiq, who faces over 100 criminal cases, shouted before waiting mediapersons that this was a ploy to eliminate him. 'Hatya, Hatya," he shouted when reporters asked him whether he wanted to say something.
Earlier, a team of 23 cops from Prayagraj reached Sabarmati Central Jail in four vehicles, including two prison vans and two SUVs, at 9.30am. Sources in the Sabarmati central jail said that the UP police submitted a court order to get his custody.
"A special court of Prayagraj has been trying a case of kidnapping and criminal conspiracy against Atiq and his brother Ashraf. The court will pronounce the judgment on March 28. So, it was necessary to take him to Prayagraj," said Sabarmati Central Jail Deputy SP JS Chavda.
A UP police officer, who was a part of the escort that was supposed to take Atiq Ahmed via road in a 1,300km journey, said that special vehicles had been brought for carrying the former MP.
"We have two prison vans. In case of some technical glitch in one van, he will be shifted to another vehicle. There are two SUVs in which senior police officers will be travelling to avoid any untoward incident," a police officer said.
There was a long discussion between the officers of Gujarat and UP police on handing over the custody of Atiq. "When the UP police showed the court order where his presence during the pronouncement of verdict was necessary, we handed over his custody after taking legal opinion from state lawyers," an officer of Gujarat police said.
After a round of negotiations between the police of two states, Atiq Ahmed, clad in white turban and black Pathan suit, was taken out of the Sabarmati central jail at 5.40pm. Unable to walk properly, he was supported by cops who swiftly pushed him inside the prison van and locked it.
After coming out of the jail, he said "Mujhe inka programme maloom hai…Hatya karna chahte hain (I know their programme…They want to murder me). When one reporter requested him to repeat, he shouted, "Hatya, Hatya (murder, murder)".
As he was entering the waiting vehicle, he reiterated, "court ke kandhe par rakh kar mujhe marna chahte hain (they want to shoot from the court's shoulder to kill me)."
Before taking him away from the jail, all the policemen wore a bullet proof jacket and checked their weapons.
A UP police officer said that Atiq would be taken through Madhya Pradesh and not from Rajasthan. Sources in the UP police said that the shortest possible route to reach Prayagraj would be taken.
UP's additional director general, law and order, Prashant Kumar told TOI, "We are closely watching the movement. Sufficient force has been provided by Prayagraj police for security."
Meanwhile, a remark by UP minister, JPS Rathore, "to be prepared" as the car carrying the mafia "might overturn" triggered a political slugfest.
Issuing a clarification on the statement, Rathore on Sunday said, "As far as 'car getting overturned' is concerned I just said that a criminal after being arrested by police should sit calmly in the car, so that he reaches the jail safely. If he tries to run away, the car may lose balance and overturn."
Reacting to the statement, Samajwadi Party president Akhilesh Yadav said, "The CM must have told him (Rathore) earlier where and how the car would overturn. If you take help from Google and America, they will show how and when the car overturned."
Deputy chief minister Brajesh Pathak said, "We are following the orders of the court, whatever the court says will be done. These kinds of talks don't matter."
Meanwhile, sources said that preparations were being made for Atiq's stay in Naini jail.
Director general, prisons, Anand Kumar said that Atiq would be kept in isolation in a high-security barrack. "Jail staff will be chosen and deployed on the basis of their record. The jail department headquarters will maintain vigil," he said.
Atiq was shifted to Sabarmati jail in June 2019. The Supreme Court had, on April 22, 2019, directed that Atiq should be shifted to a high-security jail in Gujarat after he was accused of orchestrating the kidnapping and assault on a real estate businessman, Mohit Jaiswal, while in jail.
Atiq's brother Ashraf will also be brought to Prayagraj in connection with the kidnapping case.
The case
After the sensational killing of BSP MLA Raju Pal on January 25, 2005, Umesh Pal, then a zila panchayat member, had filed a police complaint stating that he was a witness in the murder case.
Umesh alleged that when he refused to buckle under pressure from Atiq, he was kidnapped at gunpoint while he was going on a motorcycle on February 28, 2006.
An FIR was lodged in this connection on July 5, 2007 at Dhoomanganj police station under section 364 (kidnapping or abducting in order to murder) and other sections of the IPC against Atiq, his brother Ashraf and four unidentified persons. The police found the role of six more persons and filed a chargesheet against 11 people.
Barring Atiq, Ashraf and one Farhan, the remaining accused are out on bail. Police claim to have gunned down two persons linked to Umesh Pal's murder case in separate encounters. One person was arrested, and police have declared a reward on six others, including Atiq's wife Shaista Parveen.
The MP/MLA court of Prayagraj will pronounce its verdict in the Umesh Pal abduction case on March 28. The trial concluded on March 21.
District government counsel Gulab Chandra Agrahri, said: "According to rule, when a sentence is set to be delivered, the presence of all the accused is required in the court".