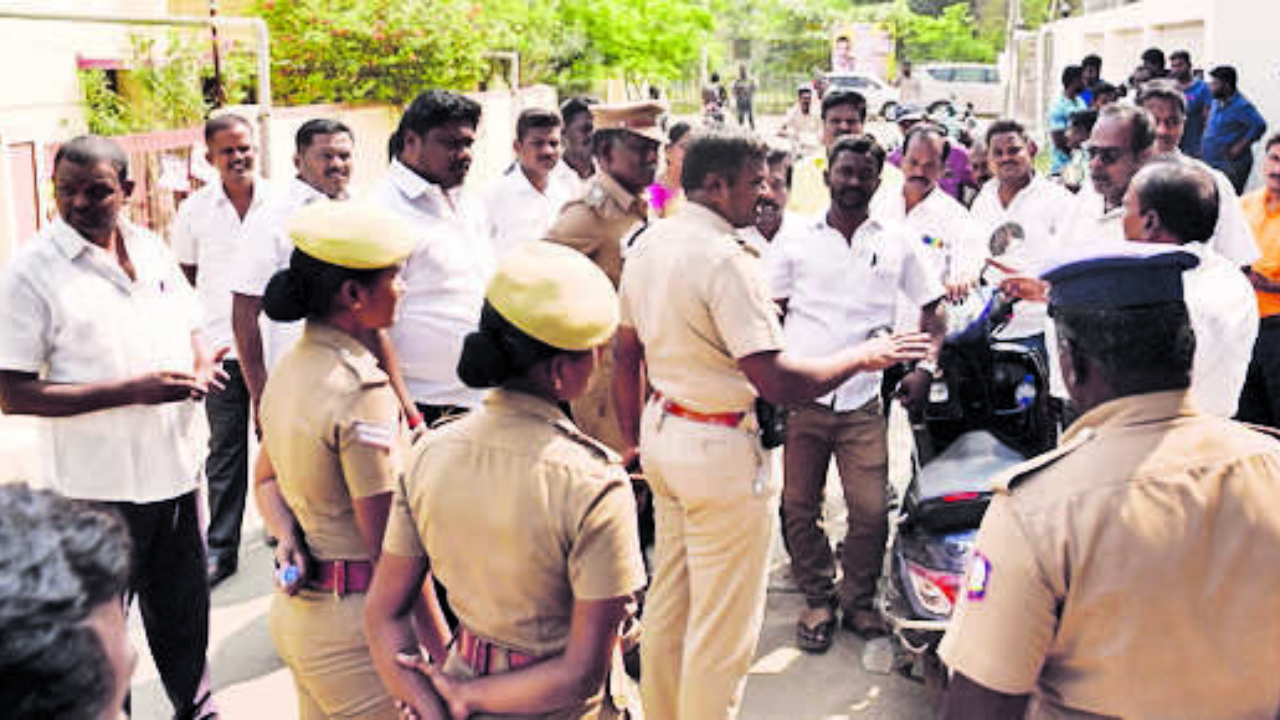 TRICHY: The simmering internal strife between municipal administration minister K N
Nehru
and some prominent DMK leaders in Trichy came to the fore on Wednesday when his supporters went on a rampage at the residence of party Rajya Sabha member Tiruchi Siva in retaliation for black flags being waved at him by Siva's supporters at the inauguration of a badminton court. Nehru's supporters also barged into the Sessions Court police station and attacked the detained supporters of Siva with chairs. Later in the evening, five supporters of Nehru, who is also DMK principal secretary, surrendered at the station and were arrested and produced in court.
Nehru had arrived at State Bank Officers' Colony to inaugurate the badminton court near Siva's house when he was shown black flags by the latter's supporters who were upset that their leader was not invited to the function and the plaque at the court did not have his name on it. It had the names of Nehru, Trichy corporation mayor Mu Anbazhagan, collector M Pradeep Kumar, corporation commissioner S Vaithinathan, deputy mayor G Dhivya, zonal chairman and corporation councillor of ward 54 T Pushparaj besides the names of corporation officials. Sessions Court police rushed to the spot and detained seven supporters of Siva who is away in Bahrain on an official visit.
Soon after the incident, more than 30 supporters of Nehru led by Srirangam MLA M Palaniyandi reached Siva's residence at State Bank Officers' Colony and hurled chairs at the house. They also threw stones and soda bottles at vehicles. A sport utility vehicle (SUV) and two two-wheelers parked outside the house were damaged besides some windows. Later, the supporters of Nehru barged into the Sessions Court police station and attacked the detained supporters of Siva with chairs. A woman constable, identified as Shanthi, suffered injuries when she tried to stop them from entering the station. Siva's supporter Saravanan was injured and admitted to hospital. Police personnel were deployed in front of Siva's house. DCP B Shridevi sifted through CCTV footage of the incident at the station which went viral on social media.
Later in the day, DMK headquarters initiated disciplinary action against four supporters of Nehru. Party general secretary Duraimurugan said in a statement that party executive committee member 'Kajamalai' Vijay from Trichy central district, district deputy secretary T Muthuselvam, district treasurer S Durairaj and ward 55 secretary V Ramadoss have been suspended from the primary membership for breaching rules and bringing disrepute to the party. While corporation councillor Pushparaj lodged a complaint against the supporters of Siva for allegedly attacking them when they went to the MP's house for questioning, the complaint was yet to be filed from Siva's side.