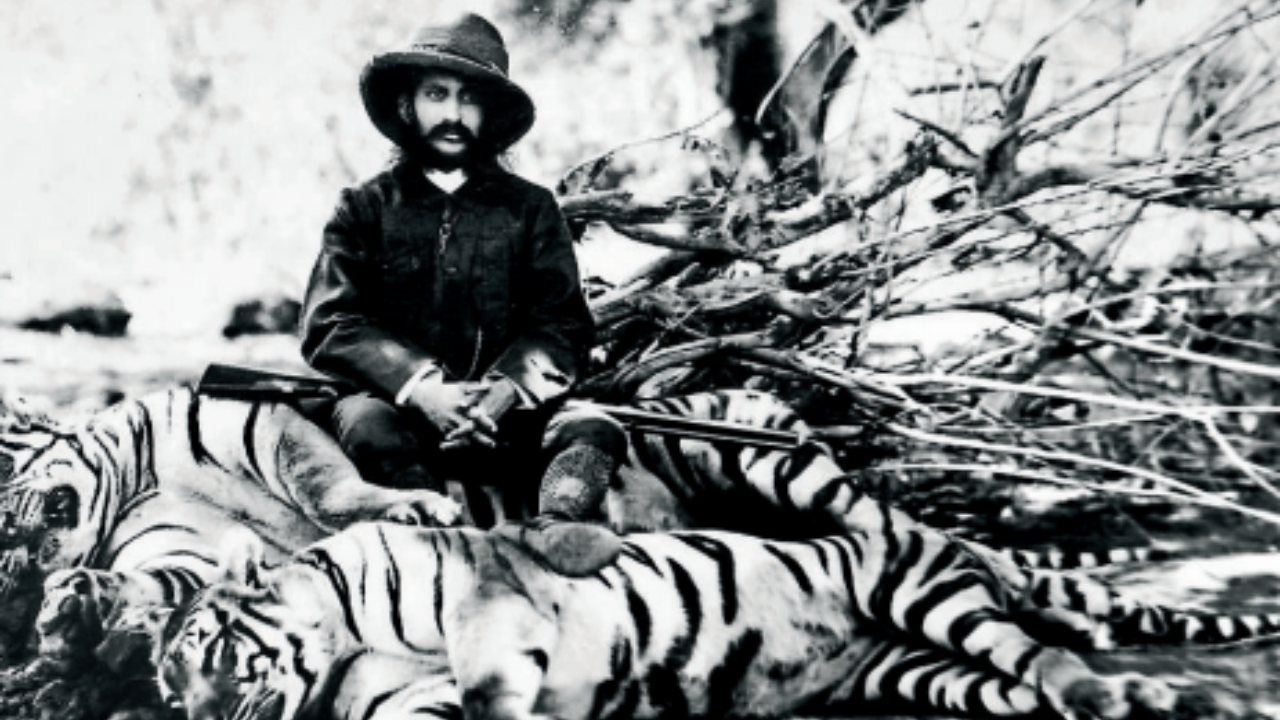 HYDERABAD: 'Tees Maar Khan' (one who killed 30), may be a popular phrase connoting valour with a tinge of sarcasm.
But it smacks of the bloody sport played by the nobles in the jungles abutting Hyderabad that led to the near extinction of tigers and other wildlife about a century ago.
Even as India celebrates 50 years of Project Tiger on April 1, archival records show how the Tees Maar Khans of Hyderabad had killed thousands of tigers, leopards, bears and other wild species in a span of about 80 years. It was this killing spree that led to an apex predator like the tiger to almost completely disappear from the region.
Mir Mahbub Ali Khan, the sixth Nizam, killed about 30 tigers during his various jungle camps in the 1880s and 1890s, earning him the Tees Maar Khan title. But he was not the only hunter that kept a count of kills. Hyderabad had many Tees Maar Khans, all taking a heavy toll on wildlife.
About 40 years later, his grandson Azam Jah went a step further and killed 35 tigers in just 33 days in 1935. Before Mahbub Ali Khan, during the regime of Afzal-ud-Daulah, the fifth Nizam, Colonel Geoffrey Nightingale, a British army officer stationed at Secunderabad, killed about 300 tigers before he died in 1868 at Bollaram in Hyderabad while spearing a leopard. Archival records show another British army officer, Brigadier-General RG Burton killed 26 tigers during March-April of 1897 and 1899. The records and photographs also reveal how Archduke Franz Ferdinand of Austria participated in hunting camps at Tandur, 115km from Hyderabad, and Saroornagar in the city in January 1893.
Sir Asman Jah, prime minister of Hyderabad state, presented two of the five orphaned one-year-old tiger cubs to the Archduke. The mother tiger was killed a few months earlier by Asman Jah.
In 1891 the Grand Duke Nicholas II Alexandrovich Romanov of Russia along with his companions went on a hunting spree. In 1889 Duke of Clarence and Avondale and two Russian Grand Dukes, Alexander and Sergei, in 1888 set up hunting camps in Hyderabad jungles.
Brigadier-Colonel RG Burton and his brother Colonel RW Burton killed dozens of tigers in Hyderabad state. RG Burton had justified killing tigers and other wild animals in his book, 'The Book of the Tiger' (1933) stating that 2,500 human lives were lost due to attacks by the wild beasts. "Without the big-game hunter such tragedies would be more numerous and more widespread. About a thousand to sixteen hundred deaths are attributed to tigers," he wrote.
Eminent ornithologist Dr Salim Ali, who took census of birds in Hyderabad in 1931-32, wrote in 1935 "almost every man possessing a gun boasted of the number of tiger, sambar, cheetal, gaur and other game he had shot and was continuing to shoot".