HYDERABAD: The Telangana high court on Tuesday set aside the preventive detention order passed by the Hyderabad police against Goa-based Edwin Nunes, an accused in a drug smuggling case, and directed the jail and police authorities to set him free immediately if he was not named in any other criminal case.
A bench of justices Abhinand Kumar Shavili and Pulla Karthik pronounced the order in a petition filed by Edwin's wife Arpa Nunes, seeking production of her husband before court. Upon being told that police booked and detained Edwin under the PD Act, Arpa filed an amended plea urging the court to quash the detention order and the subsequent confirmation order of the same by the advisory board.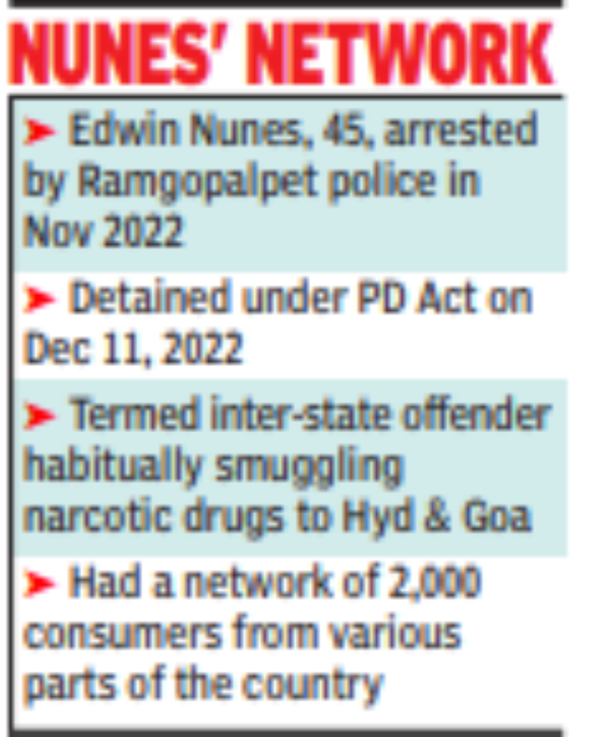 The bench agreed with the contention of the petitioner that police could not present fresh violation of the bail conditions by Edwin though they had shown three drug supply FIRs against him to justify invoking the PD Act.
Senior counsel Pradyumna Kumar Reddy, who appeared for the petitioner, said the special court trying offences under the Narcotic Drugs and Psychotropic Substances Act had granted bail to Edwin in all the three cases. Edwin was also complying with all bail conditions by appearing before police. "There are no allegations of any fresh crimes committed by him. No drugs were seized from him during his detention," he said.
State's special counsel Mujib Kumar Sadasivuni described Edwin as the kingpin in the drug supply case.
Hyderabad police commissioner had passed a detention order against Edwin in December 2022, after going through criminal cases registered against him in Osmania University, Lalaguda and Ramgopalpet police stations, state counsel told the bench.
The bench asked Edwin to deposit 1 lakh in favour of Hyderabad police commissioner as security along with an undertaking that he would not commit any fresh crimes.