JHARSUGUDA/BHUBANESWAR: A 15-year-old Class X student in Jharsuguda was allegedly kidnapped and later murdered and set on fire by a former neighbour, even as his parents were preparing to pay the ransom, police said on Wednesday.
Jharsuguda SP Smit Parmar said though the kidnappers made ransom calls to Samarth Agarwal's parents, he was murdered and set on fire much before the payment deadline.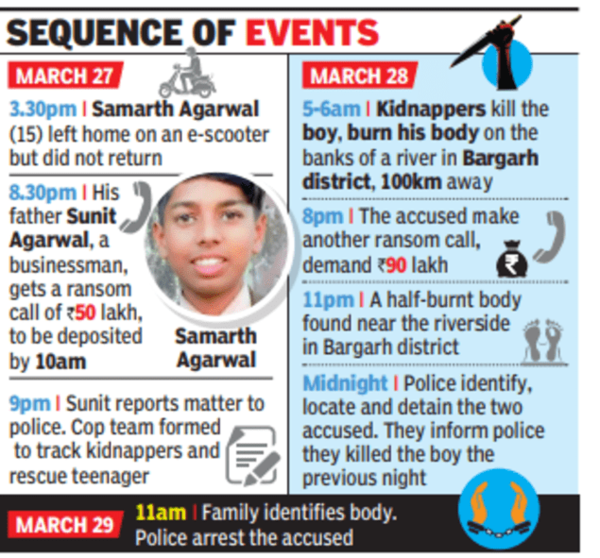 "The motive could be something else, since they killed the boy within hours of kidnapping without waiting for the money and made ransom calls after they murdered him. Possible past enmity, business rivalry and other possible angles are being probed," he said.
Police said Samarth, a cricket lover, had left home on an electric scooter from his home in Jharsuguda town on Monday afternoon to attend a cricket coaching class. Amit Kumar Sharma (46), who runs a marble shop, took a lift from him.
Samarth did not suspect any foul play
Sharma persuaded Samarth to go with him to Brajarajnagar, 15 km away, to the house of Amit's employee Dinesh Agarwal (41). Since Samarth knew him well, he did not suspect any foul play, the SP said.
Police sources said they left the boy's scooter at Amit's house and took him in a car towards Bargarh. Samarth's charred body was found on a river side in Bargarh district on Tuesday. To evade police tracking, they avoided the highway which had tollgates and took an internal road close to Hirakud reservoir towards Bargarh.
With the help of CCTV footage and human intelligence, police identified both accused and arrested them on Wednesday.
The SP said investigation is on to ascertain where and how they killed him.
Amit and Dinesh had made ransom calls of Rs 50 lakh to Samarth's father Sunit Agarwal, who owns a motor parts shop, first on Monday evening and again of Rs 90 lakh on Tuesday evening.
Police sources said families of Amit Sharma and Sunit Agrawal stayed in the same locality till a couple of years ago before the Agarwal family moved to a new colony. Amit's daughter used to tie Rakhi on the hands of deceased Samarth and both studied in the same school. Samarth was the youngest of two siblings.