HYDERABAD: Alarm bells are ringing in Telangana, especially in fast growing Greater Hyderabad, as water levels have started dipping in Nagarjuna Sagar in March, much before summer sets in. The reason, experts says, is both Telangana and Andhra Pradesh drawing waters from the dam.
Official sources said while Telangana has been drawing water for irrigation through canals, Andhra Pradesh has been drawing water for both hydel power generation and irrigation in the ongoing Rabi season.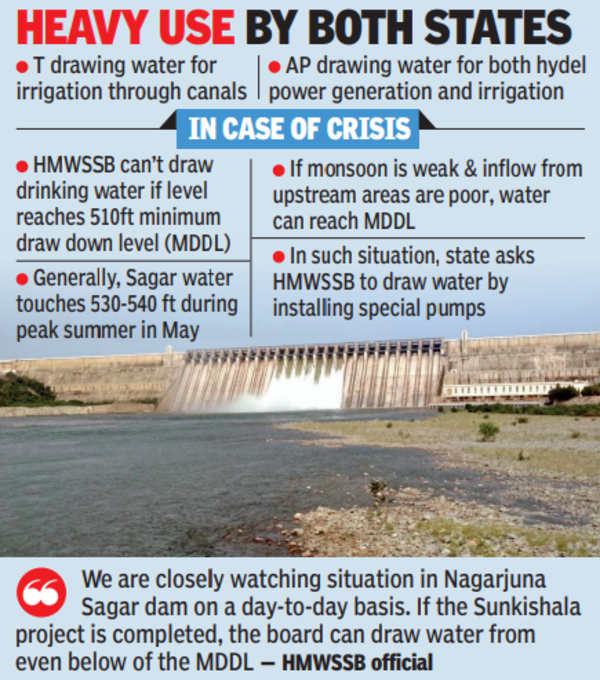 Hyderabad Metropolitan Water Supply and Sewerage Board (HMWS&SB) officials fear if both states keep drawing water, the city may face a water crisis in the summer as Krishna water is being supplied to eastern and southern parts.
Interestingly, if the water levels further dip in Nagarjuna Sagar, even Guntur, Prakasham and Krishna could face drinking water problems. According to Telangana irrigation department records, while Nagarjuna Sagar dam's full reservoir level (FRL) is 590 feet, the current water level is 534 feet (March 14), 24 feet less than the water level (558 feet) recorded on the same day last year. Against the 312 f thousand million cubic feet (tmcft) gross availability, the present reserves have touched 177 tmcft. Last year, there were reserves of 229 tmcft.
Both states will have to manage with available water till August as Nagarjuna Sagar dam gets inflows from upstream Krishna river then. This is the reason for Kharif and Rabi seasons beginning late in Krishna delta.
"Despite the Krishna River Management Board's (KRMB) directive to AP to stop power generation from Nagarjuna Sagar, it is going ahead and drawing water from canals for irrigation too. Telangana is using water for standing crops in Rabi season through canals," Sridhar Deshpande, officer on special duty (irrigation) in the Telangana CMO said. He added that Telangana government wrote letters to KRMB to restrain AP from drawing more water, but officials in the neighbouring state are not attending some of the board meetings.
Nagarjuna Sagar dam officials said HMWS&SB cannot draw drinking water for the city if the level reaches 510 minimum draw down level (MDDL) at the dam. Generally, Sagar water touches between 530 and 540 feet during peak summer in May.
If the monsoon is weak and inflows from upstream areas is poor, the water level can reach MDDL. In such a situation, the state government asks HMWS&SB to draw water by installing special pumps. "We are closely watching the situation in Nagarjuna Sagar dam on a day-to-day basis. If Sunkishala project is completed, the board can draw water from even below MDDL," a senior HMWS&SB official said.