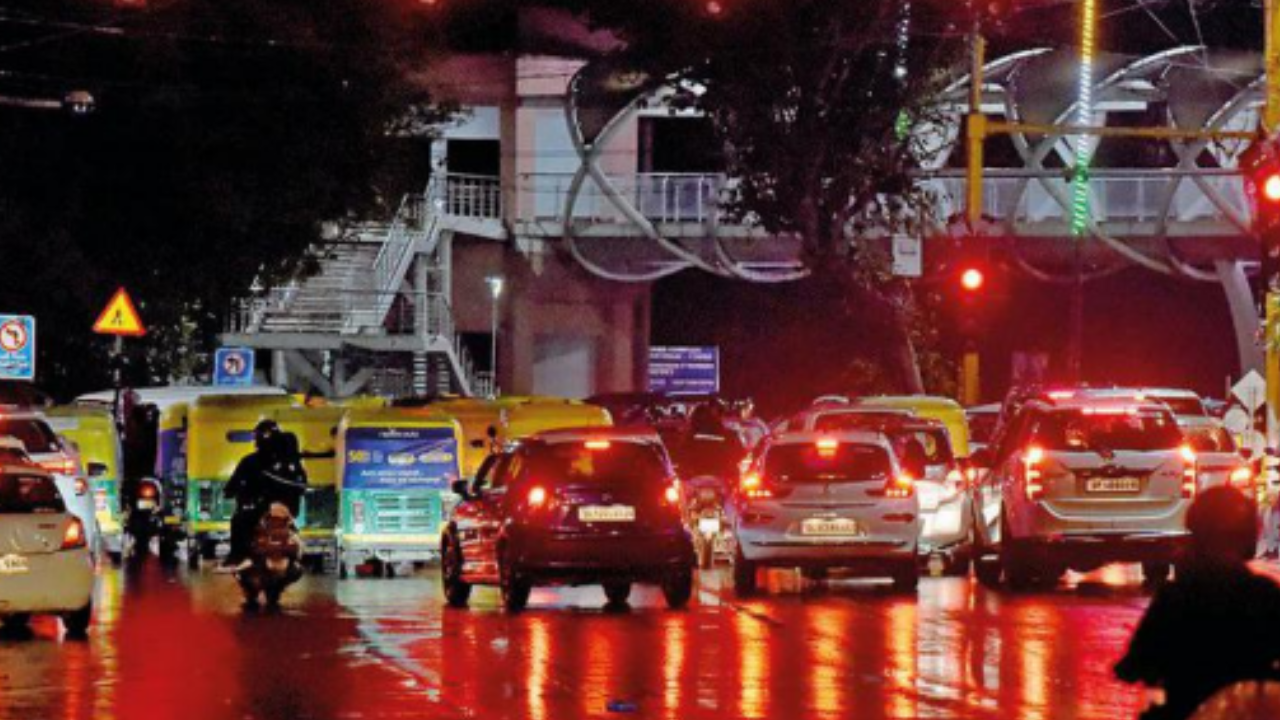 NEW DELHI: People of Delhi were caught unawares as the city witnessed a short but intense spell of rain on Wednesday evening. According to the weather department's forecast, light rain is likely on Thursday and another spell of shower, along with hailstorm, on Friday.
Due to the inclement weather, nine Delhi-bound flights were diverted from IGI Airport to Jaipur between 6.30 pm and 7.30 pm on Wednesday. Several other flights were delayed. There was an intense thunderstorm formation in eastern parts of Haryana, which led to gusty winds prompting the airlines to divert the flights, said experts.
Around 6.30pm, several places in the city, especially areas of South Delhi, saw intense rain activity that lasted for around 20 minutes. Till 8.30pm on Wednesday, the city's base station, Safdarjung, recorded 8.8 mm rainfall with gusty winds reaching up to 57 kmph. At Palam, 0.4 mm rainfall was recorded and maximum wind speed of 39 kmph.
"An approaching western disturbance, associated moisture and increased maximum temperature led to the formation of clouds in western parts of Delhi and eastern parts of Haryana. In the evening, the clouds moved eastwards and caused thunderstorms, lightning and light rain over most parts of the city," explained Kuldeep Srivastava, senior weather scientist at India Meteorological Department (IMD).
He added that a yellow alert has been issued for Thursday and Friday. The rain activity may continue till Saturday. "On Thursday, major rain activity is expected during the evening and night. On Friday, rain is expected all day, along with hailstorm at isolated places, over Delhi-NCR," added Srivastava.
According to the weather department, the maximum temperature increased by two degrees on Wednesday. It was recorded at 33.6 degrees Celsius, two notches above normal. The minimum temperature was recorded at 16.2 degrees Celsius, two notches below normal, against 15.3 degrees Celsius a day earlier.
"Due to the influence of western disturbance, the temperature will drop slightly on Thursday. The maximum and minimum temperatures on Thursday are likely to hover around 32 and 19 degrees Celsius, while by Friday, the daytime temperature will drop to 28 degrees Celsius," said another official from IMD.
On Wednesday evening, thunderstorm, along with light rain and gusty winds, occurred over several areas of Delhi, including Rajouri Garden, Patel Nagar, Red Fort, Preet Vihar, Buddha Jayanti Park, President House, Rajeev Chowk, ITO, Delhi Cantt, India Gate, Akshardham, Palam, Safdarjung, Lodi Road, Nehru Stadium, IGI Airport, Vasant Vihar, RK Puram, Defence Colony, Lajpat Nagar, Vasant Kunj, Hauzkhas, Malviyanagar and Kalkaji.
IMD had earlier predicted a spell of rain and cloudy weather starting Wednesday night under the influence of the fresh western disturbance.
Meanwhile, the air quality of the city remained 'moderate'. The air quality index (AQI), on a scale of 0 to 500, was 198 against 147 a day earlier.
It is likely to be within 'moderate' or 'upper end of satisfactory' for the next three days due to dispersion by surface wind speed as well as wash out by expected rain spells.