HYDERABAD: While NH65, a highway crisscrossing Hyderabad, holds the dubious distinction of being the most accident-prone highway in the state, it has also set a record for saving the most lives through its ambulance services.
A staggering 2,004 lives were preserved by ambulance services on this highway from January 2014 to January 2023, according to an RTI reply furnished by the National Highway Authority of India (NHAI) to activist Robin Zaccheus.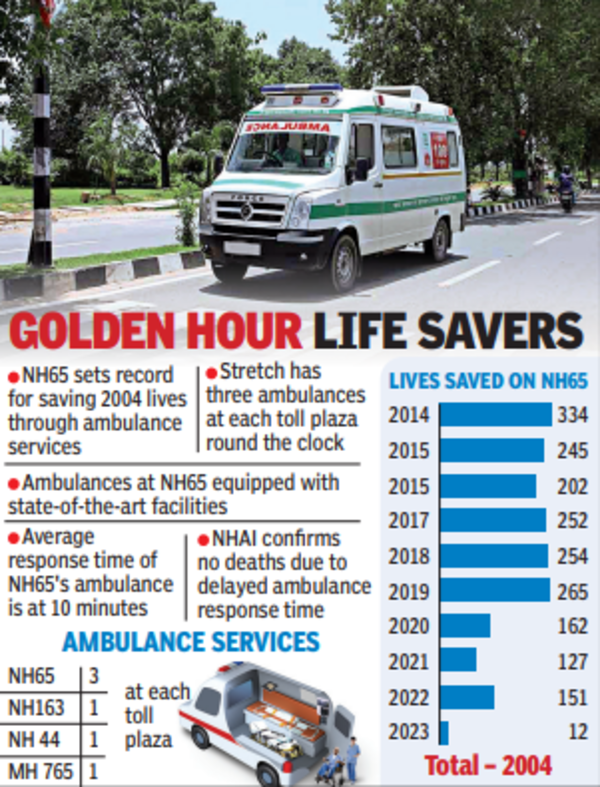 While NH65 has three ambulances provided at each toll plaza, the other highways — NH163, NH44 and NH765 have one each – all running 24×7 basis. These ambulances are equipped with automatic loading stretcher, long spinal board, KED extrication, stationary oxygen and nebulizers.
Ambulance services on NH65 saved more lives than other highways. By comparison, NH44 saved 63 lives, NH163 saved 62 lives, and NH765 saved 65 lives. The average response time of NH65's ambulance services stands at 10 minutes, while it ranges from 10 to 12 minutes on other highways. Remarkably, NHAI confirmed that there were no reported deaths due to delayed ambulance response time on the Hyderabad-Vijayawada section of NH65 from 2014 to 2023.
During 2014, the 1033 service saved 334 lives – the highest in the last eight years. In another RTI reply issued earlier by NHAI, NH65 had the highest number of fatalities at 764.
Experts recommend more ambulance services to reduce casualties, with NHAI's mandate being one ambulance for every 50 km. Though NH65 has three ambulances at each toll plaza, which operate 24×7, experts insist that this number is not enough, considering the increasing toll revenue and the average of almost a hundred deaths per year on this perilous route.
"Three ambulances on jam-packed NH65 isn't enough. There is a need to ramp up to bring down the casualties. Having almost a hundred deaths every year in one single stretch isn't a good sign," RK Vasudevan, a city-based road safety coach told TOI.