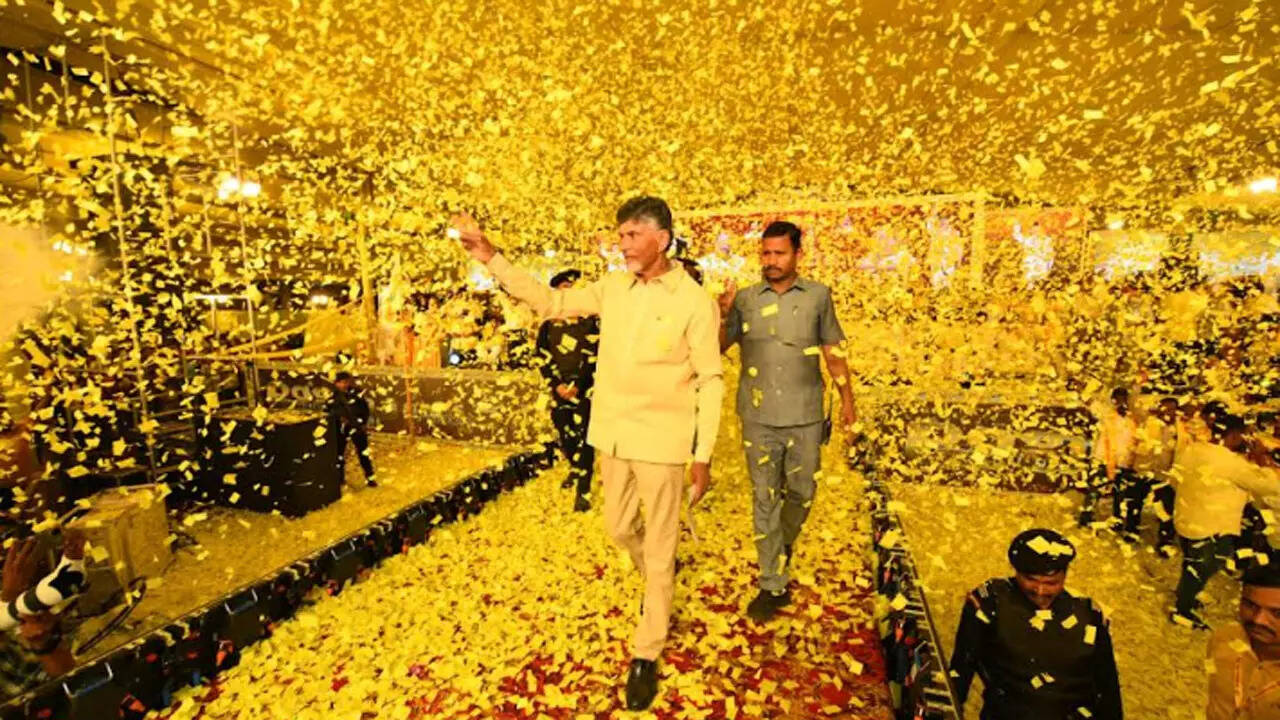 AMARAVATI: Telugu Desam Party (TDP) chief and former chief minister N
Chandrababu Naidu
said on Wednesday that "sending YS Jagan Mohan Reddy home packed" is the only way to protect
Andhra Pradesh
from getting ruined.
He said that Jagan has shattered the dreams of people by stalling the capital city Amaravati.
Naidu said that Amaravati could have competed with Hyderabad had his vision been continued by the successor.
"Unfortunately, Andhra Pradesh got a psycho chief minister in the form of YS Jagan who demolished the entire development," Naidu fumed.
Addressing the party foundation day meeting held in Nampally exhibition grounds in Hyderabad, Naidu said that almost all the chief ministers including YS Rajasekhara Reddy and K Chandrasekhara Rao continued the developmental projects kick-started by him whereas Jagan had destroyed the development in AP.
He said that bringing TDP back into power in AP is a historical need to protect the state's future.
He said that Jagan was neither aware of the development nor has any vision to take up new projects.
He said that TDP fought for the scientific division of the state during the bifurcation.
He said that NT Ramarao had revolutionized politics four decades ago by floating the TDP.
He said that NTR did not venture into politics only for the sake of power.
He said that TDP empowered the backward classes with reservations in the political posts.
"TDP will remain as long as history is there. No one can make the TDP disappear from public life. TDP will always strive for the betterment of public life," said Naidu.
He said that Telugu political history would be remembered as before TDP and after TDP thanks to its impact on Telugu people across the globe.
He said that Jagan had also lost mental balance when TDP won three MLC seats from graduates' constituencies and one seat from MLA quota.
He said that rebellion had already started in AP which would culminate with the defeat of YSRCP in the next elections.
Naidu, however, was not so aggressive against the Telangana government headed by K Chandrasekhara Rao.
He said that party leaders should strive to bring the past glory to the party in Telangana.
He said that Telugu people would be the most powerful community in the world by 2047.
He deplored that one per cent of the population is enjoying the 47 per cent assets while 12 per cent people are earning less than just Rs 150 per day.
He wanted the rich to adopt the poor and villages to remove the economic disparities in the society.
AP TDP president K Atchnnaidu, Telangana TDP president K Gnaneswar, Nandamuri Balakrishna, Somireddy Chandramohan Reddy and other senior leaders addressed the party delegates.