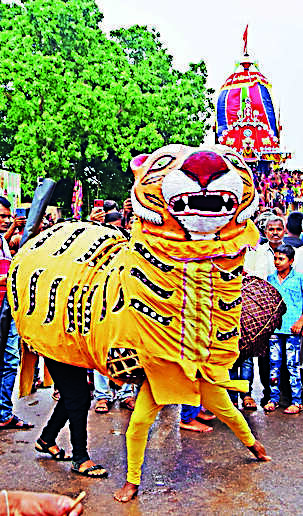 Bhubaneswar: The city soaked in festive fervour as it celebrated Rukuna Rath, the annual car festival of Lord Lingaraj, here on Wednesday.
Devotees gathered at the 11th century Lingaraj temple to pull the chariot. The rituals were delayed by a couple of hours and the chariot pulling stopped at Badheibanka Chhack at sunset. Chariot pulling will resume on Thursday morning.
Governor Ganeshi Lal and chief minister Naveen Patnaik greeted people on Ashok Astami, the day when Rukuna Rath is celebrated. "The temple administration fixed the schedule but did not crosscheck with us whether it will be feasible or not. The authorities are not considering the demands of the priests, which is unfair. We don't want to disrupt the rituals but ensuring the timing was difficult," said Biranchi Narayan Pati, secretary of Brahman Nijog.
Elaborate police arrangements had been made. As there was chance of
rain
and thundershowers, the flow of devotees was a little less. "We have made elaborate arrangements for smooth chariot pulling. Around 15 platoon of police force, over 100 officers were deployed for security of the devotees and maintaining law and order during the festival. Parking facility had been provided and traffic was diverted," said Soumendra Priyadarshi, police commissioner.
Devotees pull the idol of Lord Chandrasekhar, who represents Lord Lingaraj, Rukuna and Anant Basudev, who were brought atop the chariot amidst religious chants, beating of gongs and cymbals, blowing of conchs, playing of traditional musical instruments, performance by Odissi and folk dancers. The pulling of chariots started around 5.30 pm, about two hours behind schedule.
The chariot festival of Lord Lingaraj is unique in many ways. "The chariot does not take a turn, so it is called Analeuta. Rather the altar of the deities is turned and pulled from the back side. The holy water of Marichi Kunda, which is believed to cure infertility, was auctioned. The government should promote this festival like the Rath Yatra of Puri so that more tourists visit the city during the festival," said Kamalakanta badu, secretary of Badu Nijog.
Drizzle and cool breeze set a perfect ambience for chariot pulling. "Due to the lord's grace, the hot and humid weather of the first half of the day changed to a pleasant condition reducing the discomfort level. I could not come to pull Rukuna Rath due to Covid for the last two years. But this year, I am blessed as I am able to do so," said Malati Sahu, a devotee.
SSEPD minister Ashok Chandra Panda, Bhubaneswar Mayor Sulochana Das, Jatani MLA Suresh Routray and several dignitaries were present to witness the chariot pulling of the deity in front of Lingaraj Temple.