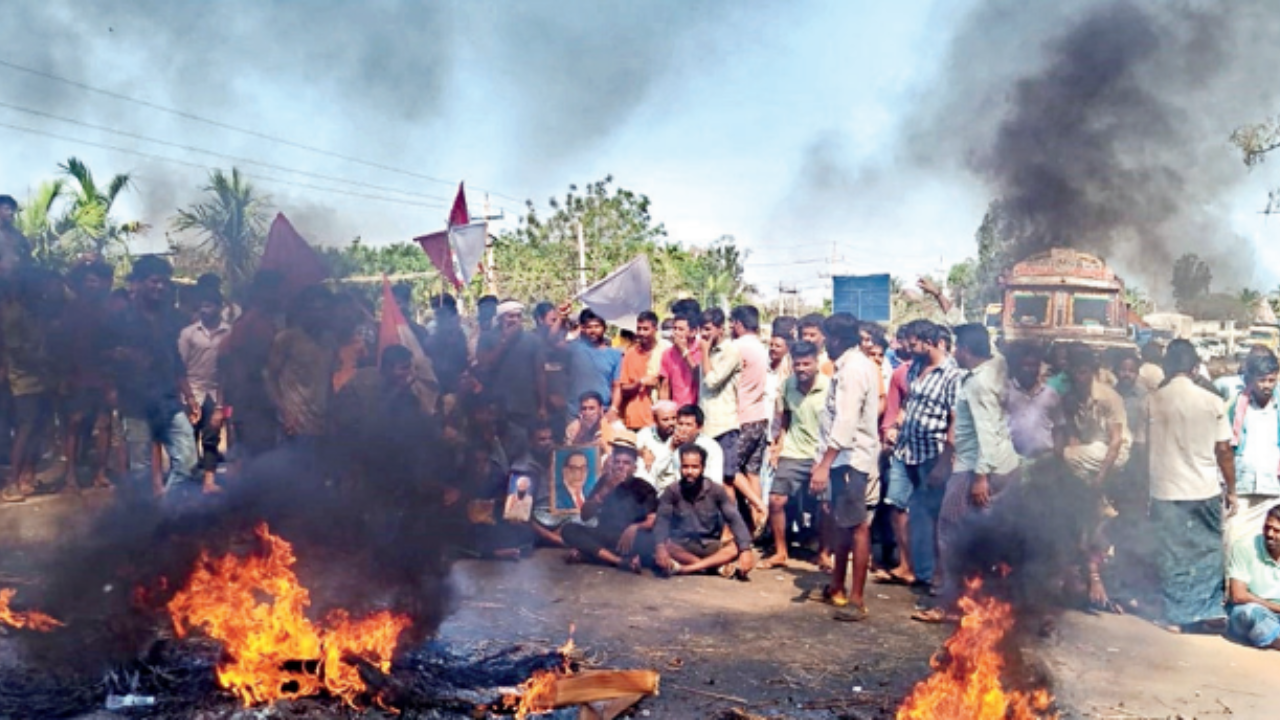 SHIVAMOGGA: Hundreds of people from the Banjara community blocked the highway connecting Shikaripura and Shivamogga at Kunchenahalli Tanda for an hour on Tuesday as the protest over the new reservation matrix continued. Protesters, who had pelted stones at former chief minister BS Yediyurappa's residence on Monday, burnt tyres and shouted slogans against the government.
They want the government to revert to the old quota matrix. Protesters were eventually dispersed by Shivamogga rural police. Meanwhile, police have filed four FIRs and arrested three people in connection with Monday's violence.
Home minister Araga Jnanendra, who arrived in Shikaripura on Tuesday, met with Shivamogga MP and Yediyurappa's son BY Raghavendra and discussed the situation.
Jnanendra later said that although Yediyurappa requested him not to book protesters, the department is taking it seriously because police were injured. He said some of the protesters are rowdy sheeters and an investigation will unearth the conspiracy.
Blame game
Meanwhile, in Kalaburagi, chief minister Basavaraj Bommai also called the protests a conspiracy instigated by Congress. He said Congress functionaries "put the Banjara people on the wrong path" by "lying that they will be removed from SC reservation".
"Congress functionaries held a meeting overnight and plotted to provoke the Banjara people," Bommai said. "We have evidence of this.
DK Shivakumar should stop lying. Congress is jealous because they could not do what we have achieved." But former chief minister and CLP leader Siddaramaiah said Congress has nothing to do with the violence. Speaking to reporters in HD Kote, Mysuru district, he brushed aside Bommai's assertions.
"When former Yediyurappa has said Congress is not behind the violence, how can Bommai blame us? Does he have more information than Yediyurappa?" said Siddaramaiah. "Congress is not against internal reservation but BJP is providing reservation for political mileage."
Nagaraj Gowda, a prominent Congress leader from Shikaripura, said the protesters who pelted stones were members of various parties. "They were united in their fight against internal reservation," he said. He said it was the police's action of stopping protesters that led to the violence.