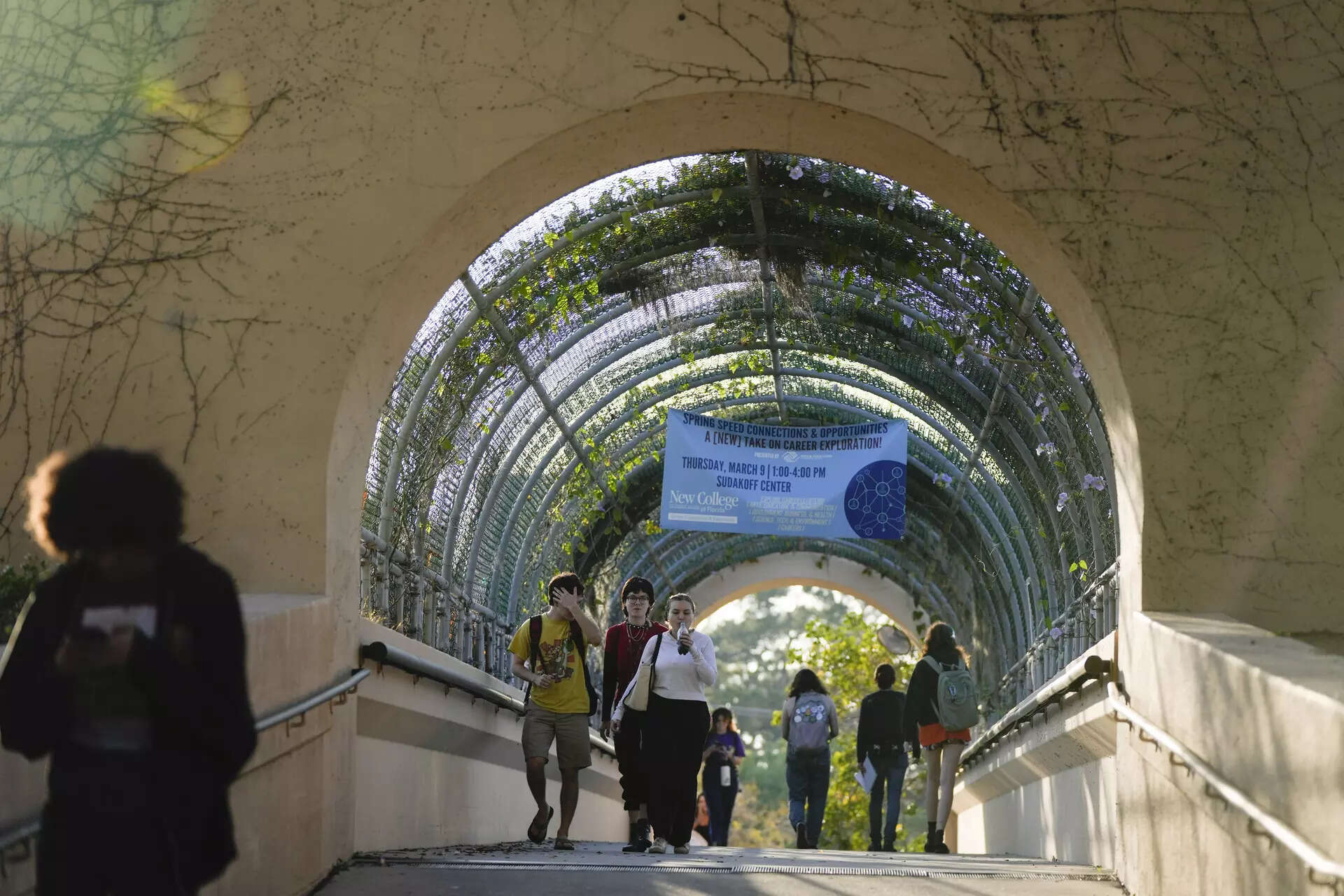 SARASOTA – Florida's Republican Gov. Ron DeSantis has targeted a tiny, public liberal arts college on the shores of Sarasota Bay, as a staging ground for his war on "woke."
The governor and his allies say the
New College of Florida
, known as a progressive school with a prominent LGBTQ+ community, is indoctrinating students with leftist ideology and should be remade into a more conservative institution.
A top-down restructuring is underway at New College, where DeSantis' allies are carrying out what students and faculty call a "hostile takeover" and a political attack on their academic freedom.
Here is the anatomy of the takeover, so far, at New College:
Jan. 6 Gov. Ron DeSantis appoints six new members to the 13-member Board of Trustees at New College, packing the board with Republican allies and insiders: -Christopher Rufo, conservative activist, a senior fellow at the Manhattan Institute and architect of right-wing outrage over critical race theory -Jason "Eddie" Speir, co-founder and superintendent of a Christian school in Bradenton, Florida -Matthew Spalding, a professor and dean at conservative Hillsdale College; senior fellow at the Claremont Institute, a right-wing think tank -Charles Kesler, a senior fellow at the Claremont Institute and a professor at Claremont McKenna College -Mark Bauerlein, a retired English professor at Emory University and vocal opponent of diversity, equity and inclusion programs -Debra Jenks, an attorney in Palm Beach and the only new trustee who attended New College
Jan 26 Florida's Board of Governors appoints seventh new trustee,
Ryan Anderson
, president of Ethics and Public Policy Center, a conservative think tank.
Jan. 31 -At the first meeting with new trustees, the board votes to fire New College president Patricia Okker. -Board announces plans to name new interim President Richard Corcoran, a former Republican speaker of the Florida State House and DeSantis' first Commissioner of Education. They approve a base salary of $699,000 for Corcoran, more than double Okker's salary. -Board also announces plans to hire new general counsel, Bill Galvano, an attorney, and former GOP Florida Senate president.
Feb. 28 Second meeting of new trustees. Board votes to eliminate New College's Office of Outreach and Inclusive Excellence, as part of plans to abolish spending on diversity and equity programs. New trustee Rufo tells the meeting that DEI programs "restrict academic freedom and degrade the rigor of scholarship" because they treat "people differently based on their skin color or other inborn identities."
March 3 New president Corcoran's first personnel move is to fire chief diversity officer, Yoleidy Rosario-Hernandez, who identifies as a transgender person of color.
March 23 New College announces Provost Suzanne Sherman, who had publicly clashed with new trustees, has "stepped down" and will be replaced by an interim provost.
Sydney Gruters, a former GOP congressional aide, was named as executive director of the New College of Florida Foundation. She is married to State Sen. Joe Gruters, former chair of the Florida Republican Party.