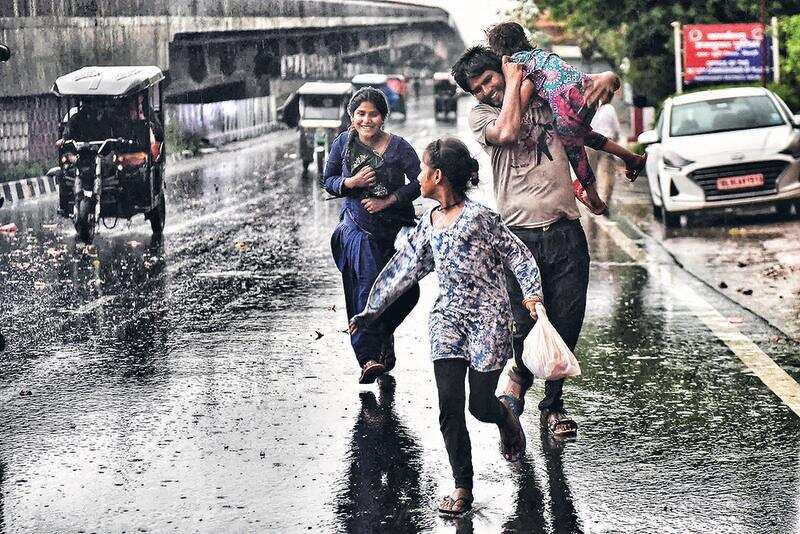 NEW DELHI: Rain, a high-intensity thunderstorm and hailstorm in certain parts of Delhi and surrounding areas on Thursday evening caused 22 diversions of Delhi-bound flights.
The India Meteorological Department (IMD) said an orange alert has been issued for Friday as high-intensity rain and hailstorm in isolated areas across Delhi-NCR is expected.
Weather officials said that while a western disturbance had already approached hilly areas, a cyclonic circulation over adjoining Rajasthan and Haryana led to the intense thunder, rain and hailstorm in some areas on Thursday evening, impacting most of south-west Haryana and Delhi. "The wind speed in Palam reached over 50 kmph due to which flights were diverted as a precaution," Kuldeep Srivastava, a weather scientist with the IMD,, said.
On Thursday, the city saw a warm morning with clear skies. It also recorded a slight rise in the maximum temperature. By 4 pm though, the weather took a turn as dense clouds covered the sky and it started raining. By 4.45 pm, an intense thunderstorm and gusty winds were reported.
Of the flights diverted from IGI Airport between 4.25 pm and 9pm, 11 were sent to Lucknow, eight to Jaipur, and one each to Dehradun, Chandigarh and Ahmedabad.
The weather department said that between 4 pm and 5.30 pm, the city's base station in Safdarjung logged 5.8 mm rain, Palam 1 mm, Lodhi Road 7.6 mm and the Ridge area 4.5 mm. Till 8.30 pm, Safdarjung recorded 9 mm rainfall.
Hailstorms in isolated places, including parts of north Delhi, and high-intensity rain in a widespread area will continue on Friday. Parts of east Delhi and other areas saw hailstorms and isolated parts of the city will continue to see hailstorm on Friday, Srivastav said.
According to the weather department, due to a clear sky on Thursday noon, the temperature recorded was 33.4 degrees Celsius, a notch above normal, against 33.6 degree Celsius a day earlier. The minimum temperature was recorded at 17.8 degrees Celsius, the season's normal, against 16.2 degree Celsius a day earlier.
However, after the rain, the daytime temperature over the next two days will drop. The maximum temperature on Friday is likely to hover around 27 degrees Celsius. The air quality continued to be moderate and may improve on Friday.