BHUBANESWAR: Chief minister
Naveen Patnaik
is planning to visit Japan in the first week of April to attract investors to Odisha, government sources said. "Preparations are on for the CM's brief trip to Japan. He may meet some top investors there to boost foreign investments here," a government official said.
Japan has been one of the country partners for Odisha's flagship business summit, Make in Odisha (MIO), in the last two editions in 2018 and 2022. The CM-led delegation will showcase Odisha's investment potential and friendly policies to attract investments in sectors such as food processing, chemicals, plastics and petrochemicals besides textiles, apparel and tourism. Naveen had addressed an overseas investment summit at Dubai in August last year where Odisha had received investment proposals of around Rs 22,000 crore.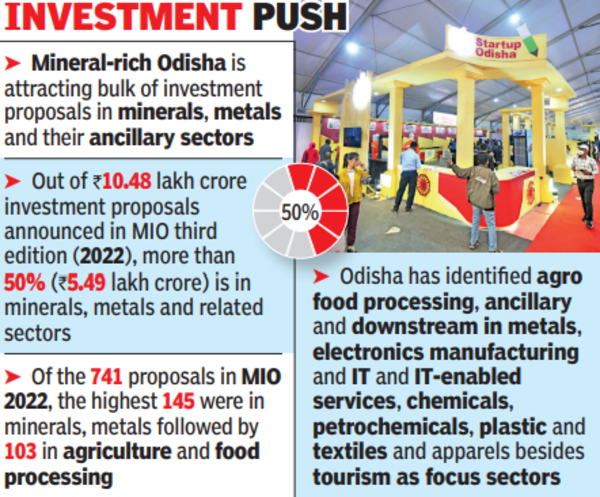 With 45% intents in the first two MIOs held in 2016 and 2018 turning into actual investments, Odisha is far ahead of national average of 22% in translating intents into actual investments, industry minister Pratap Keshari Deb told the assembly on Friday. Responding to a question by BJD MLA Debi Prasad Mishra during the question hour, the industry minister said Odisha has been emerging as a preferred investment destination because of political stability and conducive business environment.
Deb said of the 84 business intents received in the maiden MIO in 2016, the government had approved 58. Of them 36 proposals were grounded. While works for four projects are already complete, eight are nearing completion. Similarly, out of 202 proposals in 2018, the government approved 109. Of them 71 were grounded. In terms of money, various investors declared to invest Rs 6.26 lakh crore in the two flagship events, Rs 2.03 lakh crore in first event and 4.23 lakh crore in the second one. Investments of Rs 5.10 lakh are under various stages of implementation.
The actual investment size in the 2016 event at Rs 2.17 lakh crore surpassed the declared amount of Rs 2.03 lakh crore. In the second edition, Rs 4.23 lakh crore was declared of which Rs 2.92 lakh crore was already grounded. The job potential of the grounded projects in the two business events is for 3.2 lakh people. In the third and latest MIO 2022 held last year, Odisha received 741 proposals envisaging an investment of Rs 10.48 lakh crore that may generate 10.37 lakh jobs. Other than business summits, the government has approved around 50 investment proposals in Kalahandi-Balagir-Koraput (KBK) region besides in Gajapati and Kandhamal through the single window clearance route. Eleven of them had either become fully or partially functional.