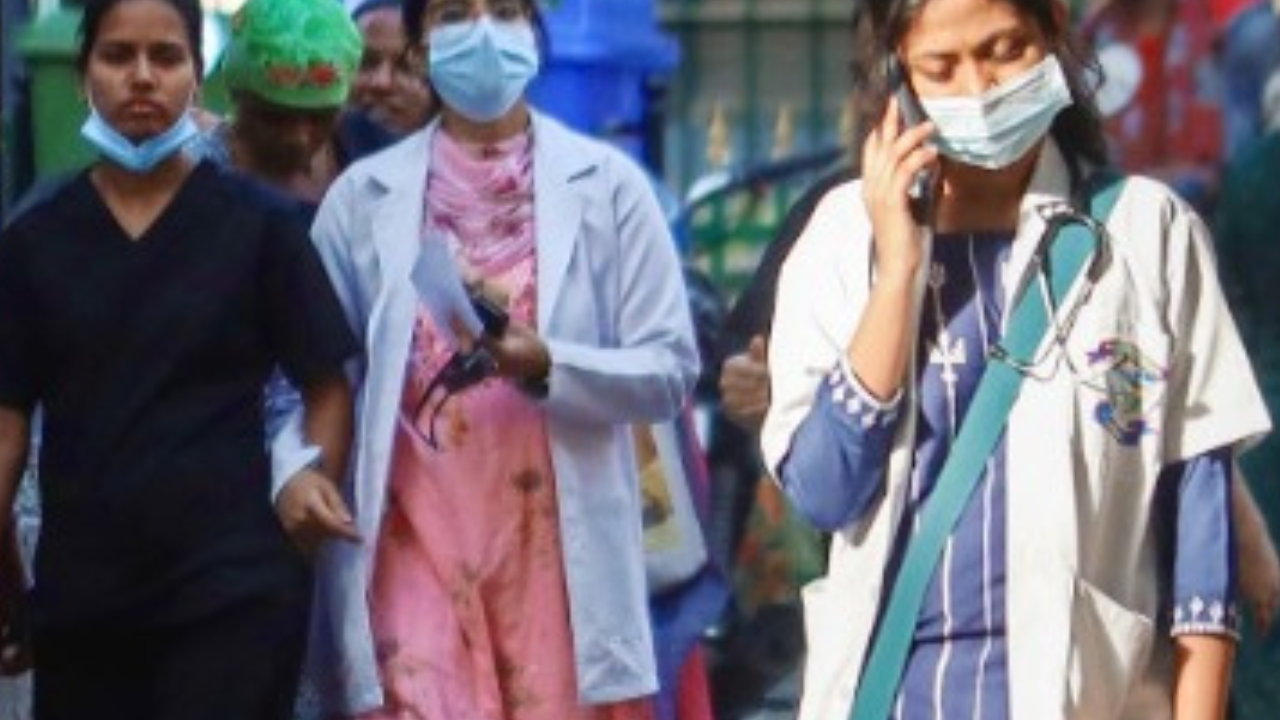 BENGALURU: Rajiv Gandhi University of Health Sciences (RGUHS), the umbrella varsity for all health-related courses in the state, has instructed medical students not to wear their white aprons outside the campus.
The circular issued by RGUHS, though, is an "advisory" and won't result in any punishment if not adhered to, the vice-chancellor of the university has clarified.
In a circular to all colleges, RGUHS said students of affiliated colleges of RGUHS and junior doctors and students of medical, dental, nursing, Ayush, pharmacy, physiotherapy and allied health science courses are wearing aprons outside their college and hospital premises and while travelling on public transport.
It not only looks odd, but belittles the importance of the attire and wearing the same apron in public places and also at work is unhygienic, the circular dated March 8 said.
Patients link apron with doctors, respect it: VC
The circular stated: "Hence, you are hereby directed to issue clear instructions to all students of your college to strictly avoid wearing aprons in public places and while travelling on public transport."
RGUHS has around 3.3 lakh students studying in its affiliated colleges. "Apron holds a certain dignity. Patients associate it with a doctor and respect it. Imagine them seeing a doctor at a restaurant, pub or on the train with the coat. It spoils the honour associated with the apron. As students, we never wore it outside. But now I see students roaming around Brigade Road and Church Street in it," said MK Ramesh, the vice-chancellor.
The circular was received with mixed response from students, with many pointing out that their peers, especially those in the first year, do use their aprons to flaunt their achievement of earning a seat at a medical college.
"For many students, it [wearing the apron outside college] is a matter of comfort. There might be no space in the bag to push the coat in. Students might also go for some urgent shopping before heading to their hostels and may not bother taking the apron off. At the same time, we've noticed a lot of students wearing it show off, too. We see them in malls and movie theatres. That is unnecessary and I agree with the university on this," said Deepak Martin Tomy, a final-year MBBS student from Mangaluru.
The concern is also about contamination. "The usage of apron started as a means to protect the doctors and later on became a part of their identity. In case a student wears it in hospital and then at a public place or vice versa, there are chances of transmission of an infection," the VC added.
Some students, however, pointed out that security at the college allows them to enter only if they have the apron. "It is necessary that we carry it wherever we go. So, we generally don't remove it even when we step out," said a student from a private medical college in Bengaluru.