MUMBAI: Two government medical colleges (GMCs) in the state have received non-compliance notices from the National Medical Commission (NMC) for not having enough teaching staff on board.
The notices were issued to the recently established GMC in Osmanabad and a proposed college at Parbhani after a recent inspection by NMC.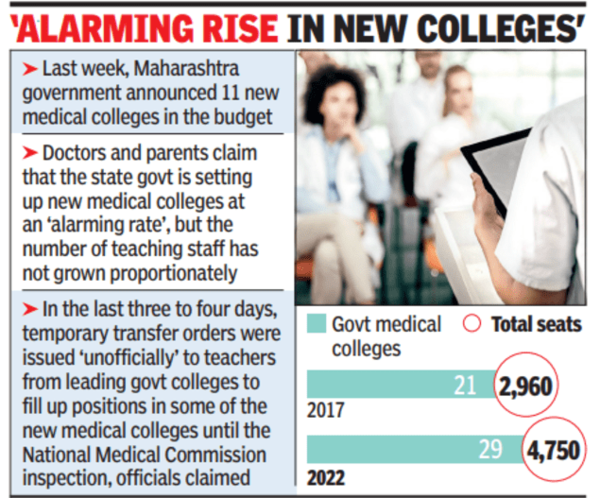 Doctors from government hospitals claim that this is just the tip of the iceberg and the situation is getting worse with the government setting up new medical colleges at an alarming rate. Only last week, the state announced 11 new medical colleges in the budget.
TimesView
Improving the doctor to population ratio is crucial, and establishing medical colleges in every district may seem like a practical solution. However, rushing to set up colleges without adequate infrastructure and trained staff could compromise the quality of doctors produced by the state. Rather than prioritizing the quantity of colleges, the government should focus on addressing the root cause of the issue. Simply shuffling staff for the purpose of passing NMC inspections is a temporary and inadequate solution for a problem that requires serious attention.
In the last three to four days, temporary transfer orders were issued 'unofficially' to teachers from leading government colleges to fill up the positions in some of the new ones, alleged a faculty member of a government college. "Teach-ers are being sent to the new colleges until the NMC inspection and then are called back," said a doctor. "Shortage of fac-ulty is a serious concern for some time now. And it is only getting worse as new colleges are coming up at an alarming rate…and the teaching staff have not grown proportionately."
A dean of a government college in a remote district said they have already advertised for the vacant posts, and plan to do it again. "Why will qualified doctors come to a remote place where there is no facility for their family?" he asked. He said they are making efforts to hire teachers through the divisional selection board, but these teachers hold the post only for four months. A state official said the recruitment is an ongoing process. "The medical education department has started the MPSC recruitment drive specially for medical colleges," he said, adding that the infrastructure is likely to take time.
In 2017, there were less than 3,000 MBBS seats, and in less than five years, the number rose to 4,500-plus. "When students join new colleges, there are no teachers available. Many are hired on a rotation basis…There is a need to increase the intake capacity for MBBS, but the government also needs to ensure that adequate infra-structure and faculty memb-ers are provided. Many colleges don't even have a building, forget hostels," said parent representative Sudha Shenoy.