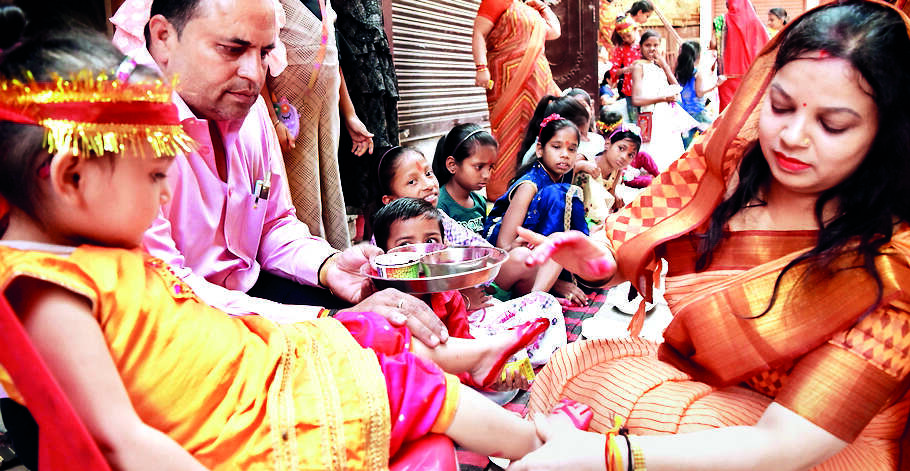 Prayagraj: Even as lakhs of devotees of the Sangam City would be ending their fast of
Navratri
on Thursday, the nine days of fasting also marked a variety of dishes prepared by local restaurants for those who were keeping fast.
Likewise, there are many restaurants who have stopped serving non-vegetarian food for the entire nine days keeping in tune with the feeling of devotees for refraining from non-veg during Navratri.
Various restaurants of the posh Civil Lines, came out with revamped menus to cater to the appetite of food patrons during the nine-day Navratri festival. These restaurants redesigned menus to cater to people who followed a strict food regimen, which includes avoiding onion, garlic, rice, wheat, meat, iodised salt and alcohol. "This Navratri we have prepared several dishes made of cottage cheese, zaffrani chironji dal accompanied with samak ke chawal or kuttu ke paranthe paired with peanut raita. To conclude the feast, there is kalakand kulfi sundae or mewe ki lauki aur makhane and sabudane ki kheer", said chief chef of a local restaurant, Vilas.
Besides, cuisines like sabudane ki kheer, salted aloo (dry/gravy), singhare ki barfi and puri with green chutney were also popular among the devotees. Dishes like sabudana pizza, sarawak biryani, banana tikki are also being served to ensure feasting during fasting. Navratri twist is given to malai tikka. Tawa fruit chat, kache kele ke pakore, aloo jeera, fresh fruit and cholai ke ladoo is also on menu for people fasting during Navratri.
"We do not serve out of the box special dishes but assure that by indulging in our mouth-watering options available in starters, main course and desserts, people definitely enjoy the festival in its true sense," said owner of another popular food joint of the city, Mohit Roy. Even the prominent sweet shops and outlets selling namkeen in the city have come out with items that can be consumed during the fast. The potato chips, having sendha namak (rock salt) and namkeen with falhaari (having mixture of groundnut and potato clips) etc were among the best sellers. Likewise, the sweet shops have made arrangements for mishti doi (sweetened curd).