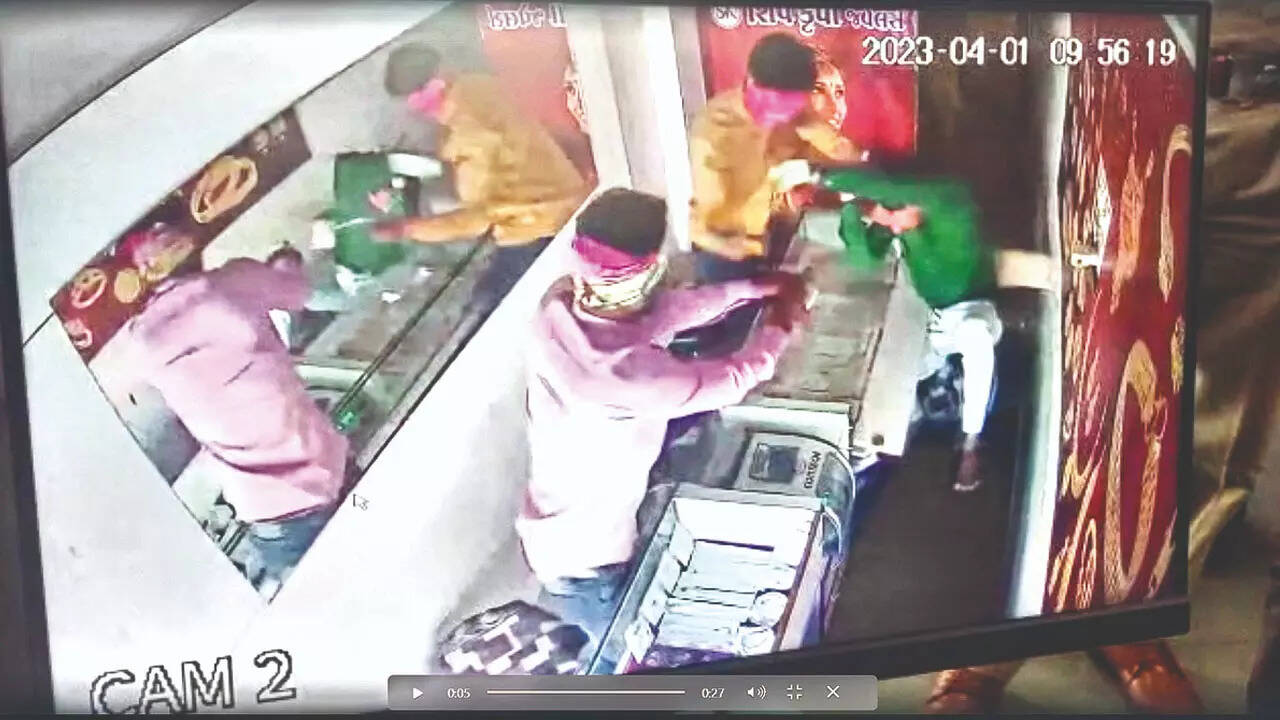 Ahmedabad: Two masked men targeted a jewellery shop in Naroda on Saturday morning, but the owner's bravery foiled the robbery bid. However, the two left Sanjay Soni of Shivkrupa Jewellers with injuries to his head, face, and back.
DCP (Zone 3) Shushil Agrawal said the robbery attempt was made at 10am. CCTV footage showed Soni sitting alone at the counter when the two men entered the shop and pointed their guns at him. When he tried to get up, one of the robbers repeatedly smashed the butt of his weapon on Soni's face and head. Soni fell, and the man dragged him inside another room while his accomplice rifled through the counter. However, Soni jumped back and tried to grab the robbers. They again smashed their guns on Soni's head as well as his back before running out of the shop.
Soni's sister Sapna said, "My brother has been hospitalized. He received 28 stitches for injuries on his head, face, and back. We cannot say if the robbers made off with anything."
Sheherkotda inspector B P Chaudary said, "The robbers had come on two-wheelers. We have formed various teams to check the CCTV cameras along the road to the shop for clues. The entire incident has been captured on CCTV cameras installed at the shop."
DCP Agrawal said, "We have registered a case under IPC sections 307 (attempt to murder), 398 (attempt to commit robbery or dacoity when armed with a deadly weapon), 34 (acts done by several persons in furtherance of
common
intention), 120 (B) (criminal conspiracy) and also sections under the Arms Act." Apart from checking CCTV cameras, the human intelligence network has also been activated to gather clues, he added.