AHMEDABAD: If all goes as planned, cellphone users will soon get some respite from phishing and cyber fraud through the misuse of SMSes. The Telecom Regulatory Authority of India has directed all telecom service providers (TSPs) to crack down on unauthorized promotional messages by telemarketers and cyber crooks by blocking unverified headers and message templates.
Trai met with the TSPs on February 16 and directed them to reverify all registered headers and message templates on the Distributed Ledger Technology (DLT) platform.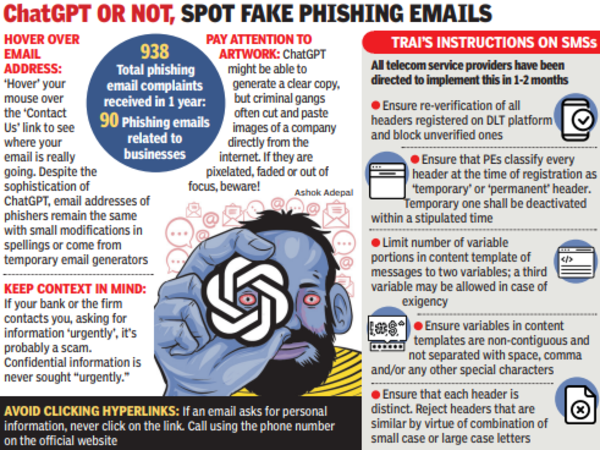 The TSPs have been instructed to block unverified headers in 30 days and message templates in 60 days.
Businesses that send bulk promotional or transactional SMS must register on DLT platforms run by telecom operators by providing their business details, including sender IDs and SMS content templates.
Trai said it had observed misuse of headers and SMS templates for promotional messages and scams, with telemarketers and cyber scammers inserting undesirable content and links.
An SMS header is the alpha-numeric short code to identify who sent the message.
Sumit Mishra, director of DoT Gujarat, told TOI, "Departmental investigations revealed that access providers were registering multiple bulk SMS headers similar to those of known companies. This makes it easy to fool recipients."
Mishra adds, "Rogue telemarketers and cyber scammers were misusing multiple variable parts in the content templates approved by services providers to create scam SMSes. TRAI has now directed TSPs to approve only two variables in the content templates."
Trai's 11-point directions include temporarily deactivating all headers that have remained unused in the past month.
Mishra said, "People must consider any customer care SMS from an unknown 10-digit number fraudulent, especially if it contains payment-related links or reminders." Telcos would also have to ensure that content variables in message templates do not have the flexibility to insert undesired contents. Entities involved in message transmission should be identifiable and tracked, if required, Trai asserted.