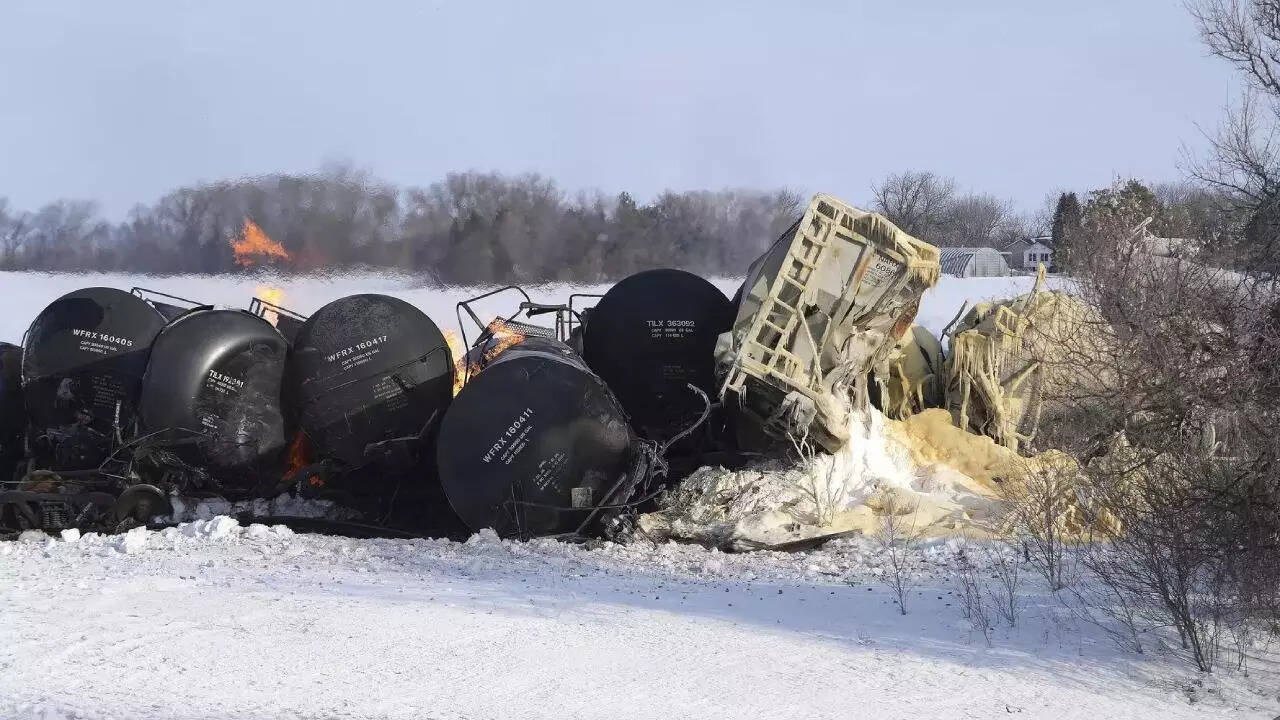 A train hauling ethanol and corn syrup derailed and caught fire in
Minnesota
early Thursday and nearby residents were ordered to evacuate their homes, authorities said.
The BNSF train derailed in the town of Raymond, roughly 100 miles (161 kilometers) west of Minneapolis, about 1 a.m., according to a statement from Kandiyohi County Sheriff Eric Tollefson.
This latest derailment happened as the nation has been increasingly focused on railroad safety after last month's fiery Norfolk Southern derailment that prompted evacuations in East Palestine, Ohio, near the Pennsylvania border.
Residents in that town of about 5,000 remain concerned about lingering health impacts after officials decided to release and burn toxic chemicals to prevent a tank car explosion. State and federal officials maintain that no harmful levels of toxic chemicals have been found in the air or water there, but residents remain uneasy.
The major freight railroads have said they plan to add about 1,000 more trackside detectors nationwide to help spot equipment problems, but federal regulators and members of Congress have proposed additional reforms they want the railroads to make to prevent future derailments.
BNSF said in a statement that 22 cars derailed and the track remains blocked, but that no injuries were reported due to the accident. The cause of the derailment hasn't been determined. EPA officials said on Twitter that four ethanol cars ruptured and the flammable fuel additive caught fire in the derailment, and they continued to burn Thursday morning more than nine hours after the derailment.
Photos and live video from the scene show a pile of crumpled train cars surrounded by snow with several tank cars still burning. Trucks line the roads on either side of the derailment and a semitrailer brought in a backhoe to help begin the cleanup once the fire is out.
BNSF CEO Katie Farmer apologized at a news conference with Gov. Tim Walz and other Minnesota officials Thursday morning and said that the Fort Worth, Texas-based railroad works hard to prevent derailments and it will start cleaning up the mess as soon as it is able to get access to the site after the fire is extinguished.
"We will have our team here until this is cleaned up," she said.
The entire town of Raymond had to be evacuated because it is all within 1/2 mile (0.8 kilometres) of the derailment, and residents of about 250 homes were taken to a shelter in nearby Prinsburg. The people who evacuated are expected to be able to return to their homes later Thursday morning, but Farmer said anyone who has to get a hotel room will be reimbursed.
U.S. Transportation Secretary Pete Buttigieg told CNN that about 14 cars were carrying hazardous materials. BNSF said the only hazardous material on board was ethanol.
Environmental Protection Agency officials arrived on site and started monitoring the air around the derailment for toxic chemicals by 6:30 a.m. Thursday.
The Federal Railroad Administration, the Pipelines and Hazardous Materials Safety Administration and the National Transportation Safety Board are all responding to the derailment, and the NTSB said a team will conduct a safety investigation into the derailment.
It doesn't appear likely that this BNSF train would have been covered by the additional safety regulations for high-hazardous flammable trains because those rules only apply when a train has either a block of 20 flammable liquid cars or more than 35 total flammable liquid cars on the train. Those rules that require additional safety measures and notice to states were developed after a string of fiery crude oil and ethanol derailments a decade ago.
But officials said the tank cars involved in Thursday's derailment were the upgraded triple-hulled DOT-117 cars required by those 2015 rules that are designed to better contain the chemicals in an accident.
Earlier this month, another BNSF train derailed in Washington and spilled 3,100 gallons of diesel fuel near the Swinomish Channel on that tribe's reservation after a safety device meant to keep a train from crossing onto an open swinging bridge malfunctioned.
The Association of American Railroads trade group likes to tout that 99.9% of all hazardous materials shipments that railroads haul reach their destinations safety, but this Minnesota derailment and the one in Ohio demonstrate how even a single crash involving hazardous materials can be disastrous. Railroads say that safety has generally been improving over the years, but there were still more than 1,000 derailments last year, according to Federal Railroad Administration data.
Hazardous materials account for about 7% to 8% of the 30 million shipments that railroads deliver across the country every year.
BNSF is owned by Warren Buffett's Omaha, Nebraska-based Berkshire Hathaway conglomerate.