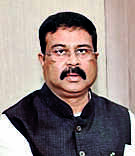 Bhubaneswar: Union education minister Dharmendra Pradhan on Friday criticised the state government and BJD leaders for making Odisha a hotbed of criminal activities. He also targeted chief minister
Naveen Patnaik
while addressing party workers.
"The Odisha government's key is in the hands of an unconstitutional person. Who is running the government? If we ask any question about this, the ruling party people accuse us of playing politics," he added.
"I want to remind the chief minister that criminal activities and lawlessness are on the rise in the state. From the murder of former minister Naba Das to abduction and killing of a minor boy in Jharsuguda district prove this. If we raise this issue, the ruling party says that we are defaming Odisha," Pradhan said.
He said the ruling party is speaking in the voice of East India Company. The person involved in the Seashore chit fund case is pointing fingers at the Yogi Adityanath-led Uttar Pradesh government. The ruling party should know how Yogi has controlled crime in his state. "Because of this, Yogi came back to power. Learn something from that state," he added.
Targeting the BJD, he said, "You have been in power for the last 23 years. Many ruling party leaders are involved in criminal activities. Several cases are pending against them."
He said Yogi had told his assembly that he will not let any criminal walk free. "Can you speak like this? No," he added.