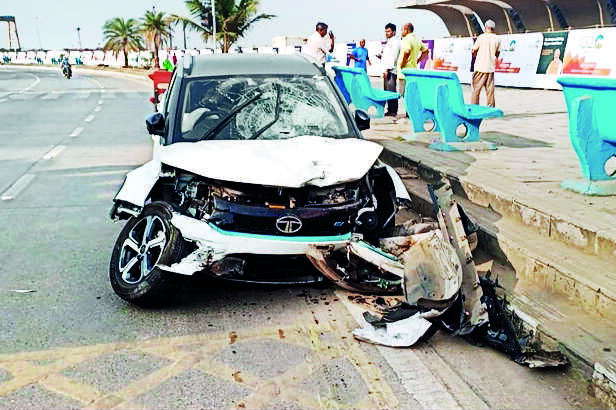 Mumbai: Urging the sessions court not to grant bail to Sumer Merchant, accused in the Worli jogger's death case, police on Friday said that since the victim, Rajalakshmi Vijay, was in a high post — she was CEO of Altruist Technologies —they wanted to probe if there was any foul play involved in her death. Police further said she was jogging at the time of the accident and if the accused is granted bail, there is a possibility of a wrong message being sent to society.
In his plea, Rajalakshmi's husband Vijay Ramakrishnan said two crucial witnesses — Merchant's friends — had told Worli police that the accused was driving the car in a drunken state and in a rash and negligent manner on March 19 morning. The plea, submitted and argued by lawyer Hemant Ingale, said the friends told police that they tried to stop Merchant, but he continued to drive recklessly, at 100kmph or more, and knocked down Rajalakshmi, killing her on the spot. Merchant, who lives in Tardeo, works in an event management firm.
"It has been further revealed in the investigation that the accused…had consumed alcohol and was partying all night with his friends. In fact, the blood investigation report reveals that his blood-alcohol levels were way beyond permissible limits. Police also suspect that he may have also consumed narcotic substances… and the investigation in that respect is pending," said the plea, which will come up for hearing on April 5.
"The deceased was jogging in the direction of the traffic at the edge of the footpath when the accused came speeding towards her and dashed her from behind with his car…the deceased was thrown in the air and fell on the car…however, the accused did not stop and tried to flee from the scene, and as a result dragged her for more than 100m and finally rammed his car in the divider," the plea said. "The impact of the accident was so grave that it caused multiple injuries to the deceased. Her arm and leg were completely broken and the accident caused a severe head injury…which proved fatal."
In his bail plea, submitted through advocate Anjali Patil, Merchant said the breath analyser did not reflect that he was under the influence of alcohol immediately after the alleged incident. "The applicant [Merchant] was arrested and sent for medical test in the afternoon, after a few hours…The FSL report revealed alcohol in the applicant's blood. It is not the case of the prosecution that the breath analysers of Worli police were not working," it said. The bail plea said this created a doubt on the FSL report , when in fact, the breath analyser showed no signs of alcohol, immediately after.