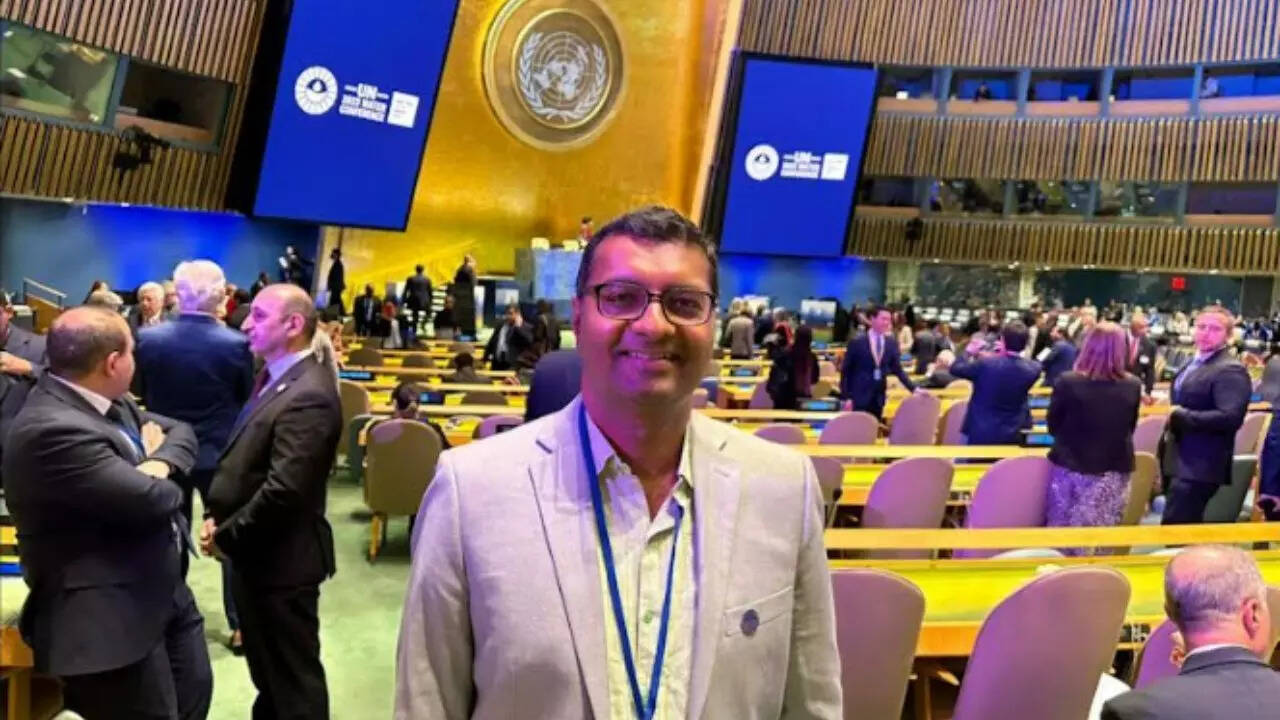 MUMBAI: "Mission 500 Crore Litre Water Storage", a farmers' movement that works on a basic principle — "of the people, by the people, for the people" — in
Maharashtra
received an honour of being part of the United Nations Water Conference 2023 at New York. Movement that has simple creative idea "Put the diesel and use the machine" at the centre for constructing small check dams and water bodies, was started in Dhamangaon village of Chalisgaon Tehsil by Dr Ujjwalkumar Chavhan (IRS) in 2017, his hometown.
Through people's participation and planning in the Gram Sabhas, river deepening and widening works are done to construct dams and ponds in village areas as part of the mission. "So far 450 crore liters of water reservoirs and trenches have been created in 80 villages of 9 districts, and 30 km of farm roads have been repaired besides plantation of 45000 trees. The movement has earlier been honoured on many platforms including Union Ministry of Jal Shakti and the Governor of Maharashtra," Chavan, who is also the additional commissioner, income tax, told TOI.
Shrikant Paygavhane, who works as a sub engineer with BMC, and associated with the "Mission 500" participated at the conference and delivered the presentations at the side events held at Bronx Community College of the City University and at the Columbia University, both at New York on March 23, 24. Paygavhane, who also leads the mission in Ambhore and Salewadgaon villages in Beed district, also discussed with delegates the latest trends in drought and floods, innovations, and technology for safe water management and need for adopting latest strategies and approaches for managing drought and floods.
While sharing Mission's experience of Water conservation, Paygavhane said "in the past, villages were self-sufficient and sustaining with water management. Before the arrival of the British in India, the head of village planning was called Patil. Hence, the volunteers who take charge of five villages in the Mission are called "Paach Patil". Nearly 21 such 'Paach Patils' have been working in nine districts of Maharashtra for the last six years. Their selfless work has motivated people who in-turn have spent on diesel expenses for JCB and Poclain machines used for de-siltation and creation of check dams." Cabinet Minister for Jal Shakti Gajendra Singh Shekhawat was part of the Indian delegation.
Paygavhane said this was the first UN Water conference in a generation, considered a watershed movement to mobilise member states, the UN system, and stakeholders alike to take action and bring successful solutions on a global scale.
Indian delegation from The People's World Commission on Drought and Flood (PWCDF) established on the occasion of World Water Week 2022 in Stockholm, Sweden, under the Chairmanship of 2015 Stockholm Water Awardee and Magsaysay winner, Dr Rajendra Singh, popularly known as the Waterman of India attended the conference. Besides Singh Dr. Ashutosh Tiwari of IAAM, V. Prakash Rao, Chairman IPRBC, Telangana, Dr. Dipak Gyawali, Commissioner, Himalayan Hindukush, Nepal, Dr. Snehal Donde and Narendra Chug from Maharashtra attended the conference.
A World Water Dialogue on "Drought and Flood: Indigenous Innovations for Mitigation, Adaptation and Resilience" was held at New Jersey. In this Dialogue, emphasis was on finding a sustainable, indigenous and local solution to the problem of climate change– the drought and flood –at the global level, paygavhane said. At the end of the dialogue, to rejuvenate the Global Water Cycle, the delegation agreed on A World Water Pledge, which was later submitted to the United Nations.