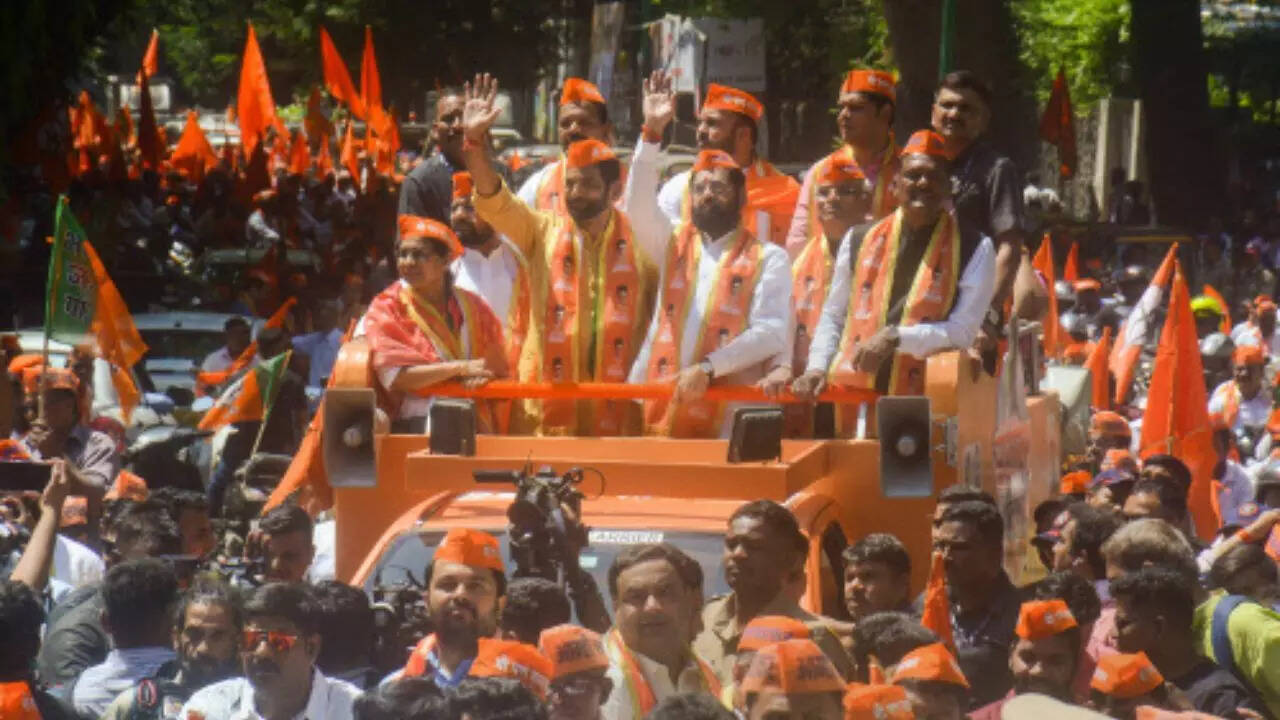 THANE: Maharashtra chief minister
Eknath Shinde
on Sunday led the 'Savarkar Gaurav Yatra' in his hometown Thane. Hundreds of people took part in the yatra to honour late Hindutva ideologue V D Savarkar.
The
Bharatiya Janata Party
and Shinde-led
Shiv Sena
had last month announced that Savarkar Gaurav Yatras would be taken out in each district of Maharashtra to honour Savarkar's contribution to the country and to counter Congress leader Rahul Gandhi's criticism against him.
On Sunday, the yatra participants, wearing saffron caps with 'Mi Savarkar' (I am Savarkar) and other messages written on them, paid floral tributes to Savarkar at the Ram Ganesh Gadkari Rangayatan auditorium in Thane city from where the yatra commenced.
A tableau displaying information related to Savarkar was also part of the yatra.
Shinde and some other leaders of the ruling Shiv Sena-BJP coalition participated in the yatra on a makeshift 'chariot' with a large photograph of Savarkar in the background.
The vehicle was decorated with flowers and followed by supporters riding motorbikes with saffron flags on them.
The CM waved to citizens as the yatra moved to cover four Assembly segments in the city.
Flowers were showered on the participants as several of them moved around Thane city using more than 200 motorbikes and around 100 auto-rickshaws raising slogans in praise of Savarkar and the country.
BJP leader Dr Vinay Sahasrabuddhe, Thane MLA Sanjay Kelkar, Thane BJP chief and MLC Niranjan Davkhare, former mayor Naresh Mhaske, Shiv Sena MLA Pratap Sarnaik and many other local leaders of the ruling coalition participated in the yatra.
Huge hoardings with pictures of Savarkar were put up in the city, patriotic songs were played during the yatra and rangolis (colourful patterns) were made at various places.
A number of women in colourful attire and carrying lezims also participated in the yatra.
Similar yatras were also taken out in some parts of Mumbai, a BJP leader said.
Rahul Gandhi's "My name is not Savarkar, my name is Gandhi and Gandhi does not offer an apology to anyone" remark has drawn fire from the BJP.
The former Congress chief had made the remark while addressing a press conference after being disqualified from the Lok Sabha and amid BJP's demands for his apology for allegedly insulting Other Backward Classes (OBCs) with his "Modi surname remark" that got him convicted for criminal defamation.
Maharashtra BJP chief Chandrashekhar Bawankule last month said his party will take out 'Savarkar Gaurav Yatras' in all 288 Assembly segments of the state from March 30 to April 6, and apart from senior BJP leaders including Devendra Fadnavis, CM Shinde and 40 MLAs of Shiv Sena will also participate.
"We will reach out to people with the history of Savarkar and how he is being insulted by Congress leader Rahul Gandhi and MPCC chief Nana Patole," Bawankule had said.
(With PTI inputs)
Watch Mumbai: BJP, Shiv Sena hold 'Savarkar Gaurav Yatra', seek apology from Rahul Gandhi