HYDERABAD: Lung fibrosis, a severe health condition in which lungs are scarred, has been found in Covid-19 patients post the illness. While lung fibrosis did subside on its own in some Covid-19 patients, it continues to cause severe respiratory issues in many other patients.
A study by researchers from the National Institute of Pharmaceutical Education and Research (NIPER), Hyderabad, revealed that lung or pulmonary fibrosis could lead to multi-organ failure and death. The study was published in the latest issue of the prestigious scientific journal 'International Immunopharmacology'.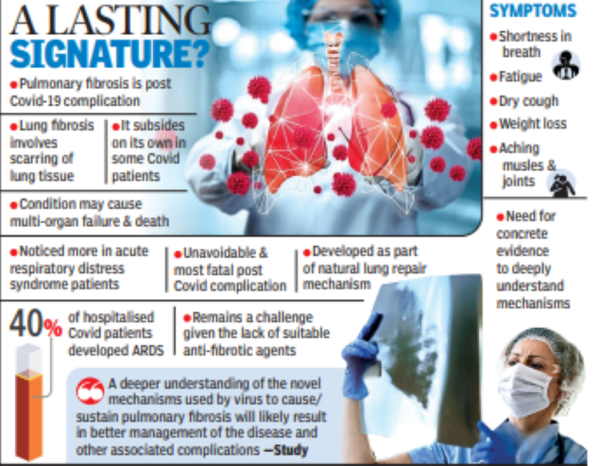 According to the study, pulmonary fibrosis in Covid-19 patients is "one of the most fatal post Covid-19 complications".
It warned that Covid-19 damage to lungs could result into progressive pulmonary fibrosis leading to multiple organ failure.
Moreover, rapid mutations and newly hijacked pathways also make it difficult to delineate the underlying mechanisms responsible for the problem. Stating that pulmonary fibrosis in Covid survivors resolved over time, at least in a considerable number of patients, the researchers warned that there are reports to demonstrate persistence of pulmonary fibrosis in others which complicates the picture.
"Pulmonary fibrosis in Covid-19 remains a challenge given the lack of suitable anti-fibrotic agents," the study said, adding the research team is far from reaching consensus on fibrosis in Covid-19 infection.
"A deeper understanding of the novel mechanisms used by virus to cause/sustain pulmonary fibrosis will likely result in better management of the disease and other associated complications," the study said.
The study said patients receiving long-term treatment are more prone to acquire pulmonary fibrosis.
"Repetitive damage and repair of alveolar tissues increase oxidative stress, inflammation and elevated production of fibrotic proteins ultimately disrupting normal lung physiology skewing the balance towards the fibrotic milieu," the researchers warned.
The research team comprising Rishabh Hirawat, Namrata Jain, Mohd Aslam Saifi, Mahesh Rachamalla and Chandraiah Godugu was drawn apart from NIPER, Hyderabad, also from University of Saskatchewan, Saskatoon, Canada.
"It is crucial to monitor Covid-19 patients over a period of time to rule out the possibility of residual effects. There is a need for concrete evidence to deeply understand the mechanisms responsible for pulmonary fibrosis in Covid-19 patients," the researchers suggested.