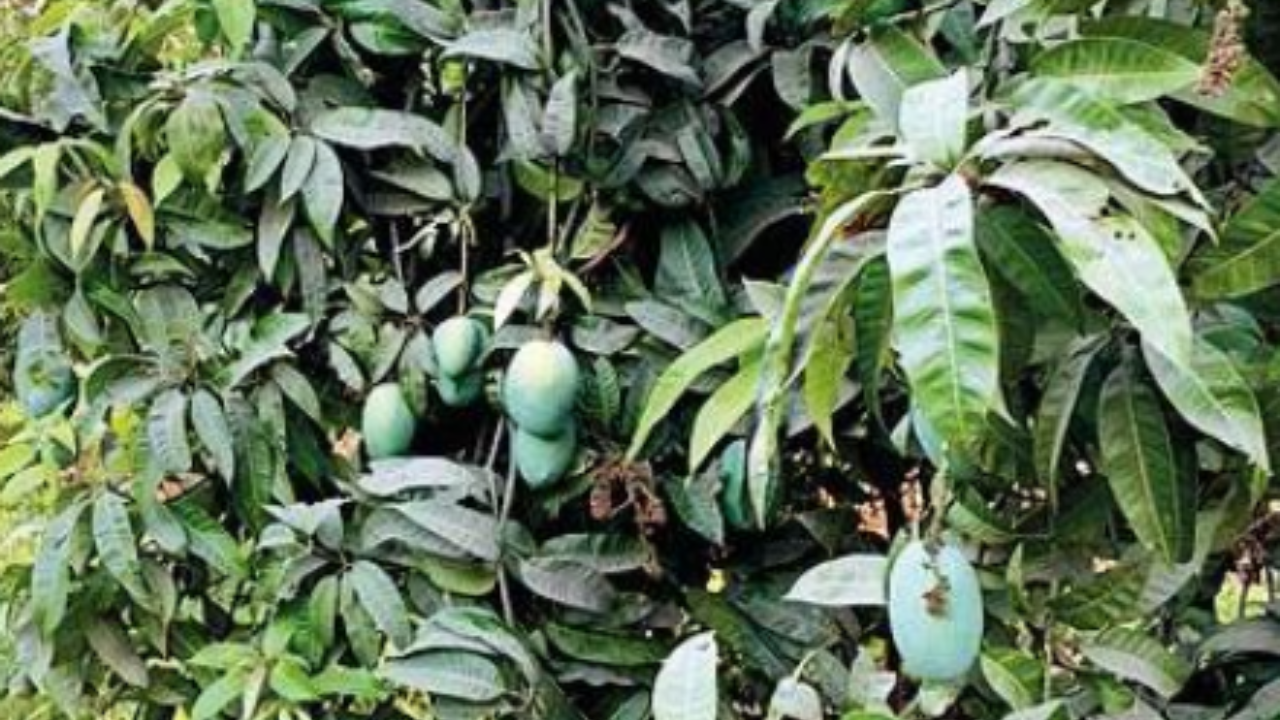 RAJKOT:
Mango
lovers keenly awaiting the arrival of the succulent kesar won't be able to gorge on this famed variety to their heart's content this summer. Drastic variation in day and night temperatures and unseasonal rain – more wet weather is forecast this week – have badly affected the fruit-setting process in the orchards of Junagadh and Amreli, the two major districts where kesar is cultivated.
Mango farmers say the production could be 25-30% less compared to 2022 when a similar situation prevailed and consumers had to return disappointed from the fruit shops. The production was hit as 2021's Cyclone Tauktae had flattened a large number of orchards. Moreover, people will have to wait till mid-May to get quality kesar this year.
Gafoor Qureshi, an innovative farmer who grows 200 varieties of mangoes in Talala of Gir-Somnath district, said, "The weather has not at all been conducive for kesar this season. Fruit-setting started in the trees where flowers developed in December, but those where flowering happened in January got damaged. Some crops were ruined due to some disease caused by the inclement weather."
Generally, the flowering on mango trees starts in December. This winter the day temperature was 25-30 degrees while that in the night was 10-12 degrees. According to experts, the fluctuation in the day-night temperature should not be more than 10 degrees.
However, winter set in late December which was followed by cold waves that damaged the flowers. Similar weather conditions prevailed in February.
Recently, several regions of Amreli and Junagadh were lashed by unseasonal rain and hail, which only worsened the natural process. Sources said the kesar boxes that may hit the market from early May will be those where farmers have used hormones for early ripening.
D K Varu, head of the department of fruit science at Junagadh Agricultural University (JAU)'s horticulture college, explained, "It's early to estimate the extent of the damage but the cold waves and unseasonal rain have certainly hit the crop in several areas. There is not much of a problem in 40% of the trees where flowers developed in November-December. But those where flowering happened in February will be damaged due to high temperatures.
Varu said there are some orchards where kesar can be plucked by June but the onset of monsoon will damage the remaining." Manuskh Bhuva, a mango farmer in Gir-Gadhada said, "The mango crop cultivation is divided in two parts. The crop near the coastal areas got affected by a disease while those in the forest areas were not hit."
Kesar mango is cultivated on about 25,000 hectares in Junagadh, Gir-Somnath, Amreli and Bhavnagar districts and the average seasonal production is 2.50 lakh tons. However, the production has been on a wane due to climate change in the past few years.