HYDERABAD: Considering the party does not have enough membership from youth, Bharat Rashtra Samithi (BRS) is planning to infuse young blood into the party by taking up various programmes including membership drives, appointing committees and also roping them into party activities. BRS supremo and chief minister K Chandrasekhar Rao, in his recent party meeting, asked the party leaders to strength the party's student wing BRS Vidyarthi (BRSV) immediately as they will play crucial role in the upcoming elections.
The party believes that BJP has a strong connection with youth and ABVP takes up more programmes in colleges and universities. The BJP youth members are active on social media as well, but BRSV is not very active in taking up programmes and participating in party activities.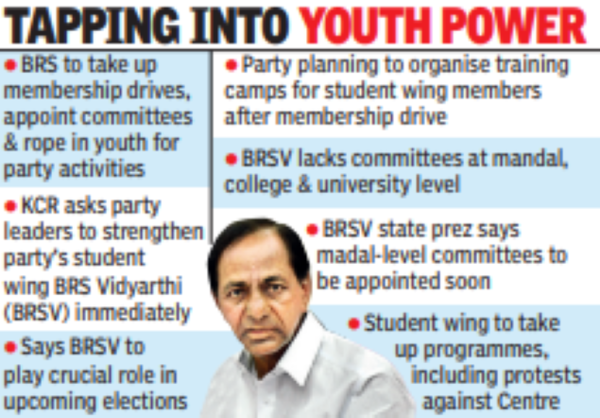 Sources in the party said that BRSV has just a lakh members against over 60 lakh strong BRS members in the state. The BRSV does not have committees at mandal, college and university level. As a result, the student wing activities are rarely seen.
After KCR asked the party leaders to plan more programmes, BRSV recently held a protest, without involving BRS workers, in front of Raj Bhavan demanding governor Tamilisai Soundararajan to clear pending Bills, especially the Universities' Common Recruitment Bill.
"BRSV with the approval of the party leadership will appoint committees at the mandal level as we only have one state committee. Secondly, wide range of programmes, including protests against the Centre on issues like not filling up over 12 lakh vacancies in central government departments, reducing government fellowships to OBCs and Rajiv Gandhi scholarships to SCs. Student members' services will also be taken up for promoting state government programmes," BRSV state president Gellu Srinivas Yadav told TOI on Wednesday. The party is also planning to organise training camps for the student wing members after membership drive.
Sources in the party said that KCR wants to give tickets to the youth in the upcoming elections. Some BRSV members, such as Balka Suman and Gadari Kishore, got tickets in 2014 and 2018 elections. In the 2020 Huzurabad bypoll, BRSV state president Gellu Srinivas Yadav unsuccessfully contested against Eatala Rajender. The party wants to give at least 10 tickets to young leaders, including sons and daughters of some sitting MLAs.