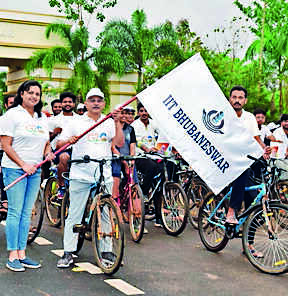 Bhubaneswar: Five higher education institutes on Saturday launched Jan Bhagidari programmes at their respective campuses ahead of the G20 education working group meeting, scheduled to be held later this month in the city.
The Jan Bhagidari programmes will be held across 30 districts in Odisha to generate interest among people about the G20 events under India's presidency.
These events are aimed at creating interest, awareness and involving the common people in the G20 education meet, which will be held between April 23 and April 29.
From April 23 to 25, precursor events to the G20 education working group meetings will start at the CSIR-Institute of Minerals and Materials Technology (IMMT). These events will be organized in collaboration with various central institutions and industry bodies.
From April 27 to 29, delegations from G20 countries will participate in the main event and deliberate upon the four identified priority areas – foundational literacy and numeracy, tech-enabled learning, future of work and research collaboration.
On Saturday, IIT Bhubaneswar, CSIR-IMMT, CIPET, NIT Rourkela and IIM Sambalpur organised Jan Bhagidari programmes.
The institutes will hold different programmes like cyclothon, debate, essay writing and other competitions, Mock G20 meets, Yuva Sambad and seminars. "It will be a warm-up event to the G20 meet," official sources at IIT Bhubaneswar said.
One anchor institute will conduct these events in three districts. IIT Bhubaneswar has chosen Khurda, Puri and Cuttack districts. It kickstarted the event by organising a cyclothon in its campus and launched G20 posters on the inaugural day. To mark the event, IIT Bhubaneswar director Shreepad Karmalkar cycled from the institute's main gate to Khurda road railway station.
Similarly, CSIR-IMMT conducted Prabhat Pheri (walkathon) as a part of the inaugural event.