BENGALURU: The news of a 22-23% toll fee hike on the Bengaluru-Mysuru expressway (NH-275) has come as a shock to many regular road users.
While many commuters wondered where was the need to hike toll when the expressway is still incomplete, peeved netizens slammed the hike, calling it 'toll atrocities', 'outrageous hike', and 'highway only for the rich'.
GR Shanmugappa, president of the Federation of Karnataka Lorry Owners and Agents Association, said his group representing 4.5 lakh trucks in Karnataka has written to Nitin Gadkari, Union minister of road transport and highways, demanding a rollback of the revised toll. "We are all against this hike. We need to pay the same toll of Rs 900, no matter whether we're travelling from Kumbalgod to Bidadi or Kumbalgod to Mysuru. Whether it is 20km or 150km, the toll is the same! This is not justified," Shanmugappa said.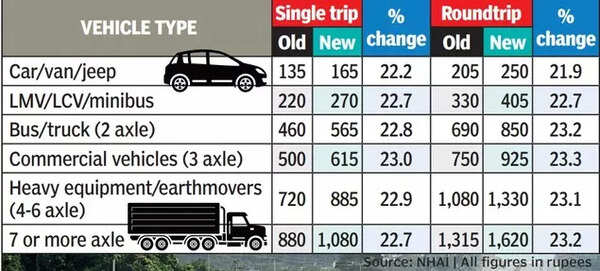 While many social media users alleged that the new toll was equivalent to looting the public, one Ankith Gowda sarcastically commented that those who do not have the money to pay can use the e-way to walk between Bengaluru and Mysuru.
The issue was also used by many to reiterate their complaints about recent accidents and waterlogging on the brand new highway.
Users were also discussing their experience of money getting deducted from their FasTAG accounts despite them not using the highway and travelling on the service road.
Missing exit signs
Commuters also complained about lack of signs for exits to places like Ramanagara and Channapatna. "If we miss the turn, we have to go more than 10 km to make a U-turn," said Wasim Akram, a cab driver. Akram and his co-workers said apart from a board placed 10-15 km before an exit, that tells commuters that a particular town is coming ahead, there are no other signages at the actual exit points.
"There are no repair shops, restaurants, resting points, public washrooms, petrol bunks, first aid clinics or pharmacies on the way. Yes, the expressway does help you reach Mysuru very fast, but at what cost? Moreover, given the speed at which vehicles travel, accidents are imminent and there is a lack of basic emergency response system," Akram added.
While officials at the National Highways Authority of India (NHAI) claim that the main stretch of the e-way is complete and ready for use, many regular travellers told TOI that several parts of the service roads connecting the smaller towns and villages located along the highway are not in good shape and prone to accidents.
"The service road is so narrow that if a vehicle breaks down on one side, vehicles coming from the other side won't be able to pass," said Riyaz Shaikh, a goods and transport business owner who frequents NH-275.