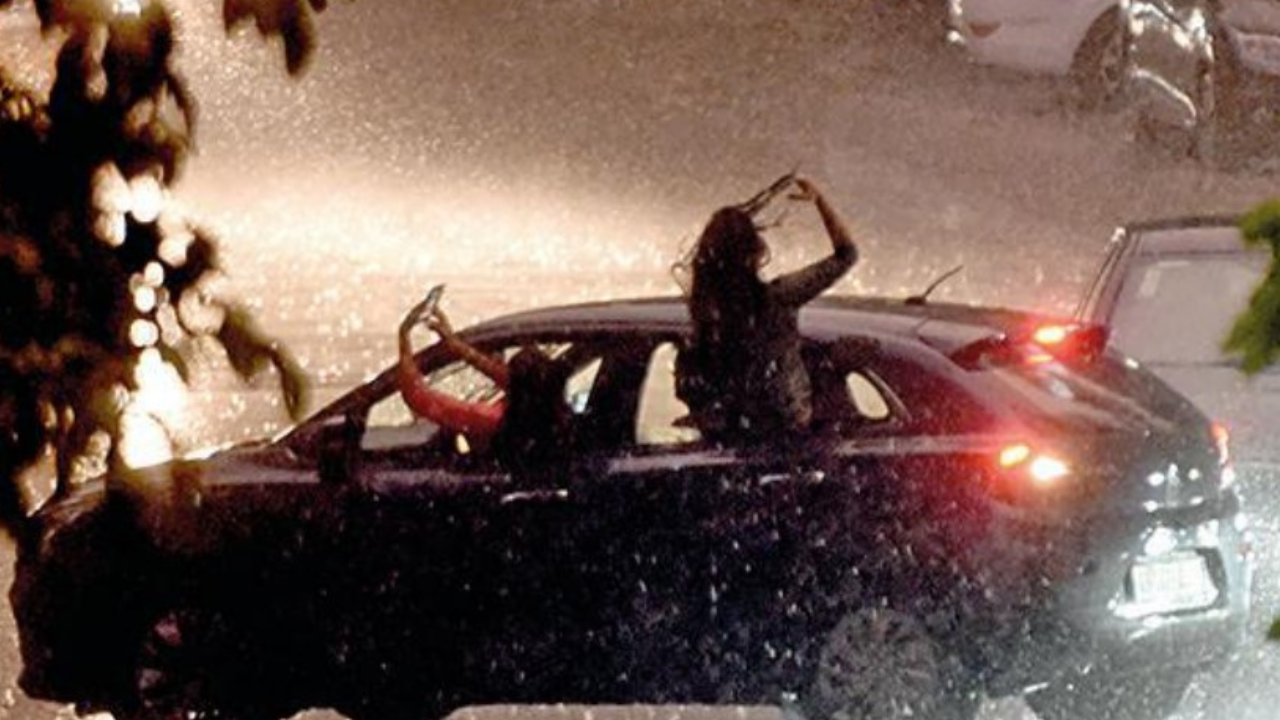 NEW DELHI: Several parts of Delhi received a short but intense rain spell on Saturday evening, which was accompanied by thunderstorm, lightning and gusty winds. There is a possibility of very light rain or thundershowers on Sunday and Monday.
Though light rain lashed several areas of the capital, weather department officials said rain activity mostly happened in south Delhi. Due to showers and strong winds, a tree fell in Vikaspuri. A few areas in the city saw waterlogging too. Municipal Corporation of Delhi received a complaint of waterlogging from Paschim Vihar.
According to India Meteorological Department (IMD), Safdarjung, which is the city's base station, logged 3.2mm rainfall from 5.30 pm to 8.30 pm and Palam received 4.4mm rainfall during the same period. A hailstorm hit Gurgaon's old Rajendra Nagar.
"The temperature at Palam was 28 degrees Celsius at 5.30 pm, but it dipped to 21 degrees Celsius in just half an hour due to rain activity. Gusty winds at the speed of 48-50 kmph blew in Palam around 6 pm. However, rain accompanied by thunderstorm and lightning was observed in other parts of the city," said Kuldeep Srivastava, scientist and head, Regional Weather Forecasting Centre.
The maximum temperature on Saturday was recorded at 28.4 degrees Celsius, five degrees below normal, at Safdarjung. The minimum temperature settled at 15.7 degrees, three notches below normal. The relative humidity oscillated between 55% and 94%.
The forecast of the IMD says that there are chances of very light rain or thundershowers on Sunday and Monday under the influence of a western disturbance. The maximum temperature may rise slightly to 31 degrees Celsius on Sunday. It is likely to hover around 32-33 degrees Celsius from Monday onwards due to clear skies. The minimum temperature is predicted to rise gradually and it may touch 19 degrees Celsius on April 4. Rain activity is unlikely from Tuesday to April 7.
Delhi's air quality, meanwhile, deteriorated from 'satisfactory' category on Friday to 'moderate' category on Saturday. The overall Air Quality Index was 106 on Saturday as against 73 a day earlier, which was the lowest reading on the index since October 11.
Air Quality Early Warning System for Delhi's forecast says that the air quality is likely to remain in 'moderate' category for the next eight days.