NEW DELHI: Delhi's revenue collection from the registration of new vehicles and road tax in the financial year of 2022-23 was recorded at Rs 2,691 crore, an increase of 50% in comparison to the previous fiscal's earnings of Rs 1,798 crore.
More than 6.3 lakh new cars, bikes and commercial vehicles were sold in the national capital between April 1, 2022 and March 31, 2023. During the same period in 2021-22 fiscal, over 4.4 lakh private and passenger vehicles were sold in the city.
In fact, Delhi's revenue from vehicle registration in the just concluded financial year surpassed the government's previous year's budget projection by 35%. The government had estimated tax receipts of Rs 47,700 crore in 2022-23, including Rs 2,000 crore from taxes on motor vehicles. "Such a healthy increase in the revenue from registration fee and road tax on vehicles is an indication of a healthy economy," said an official.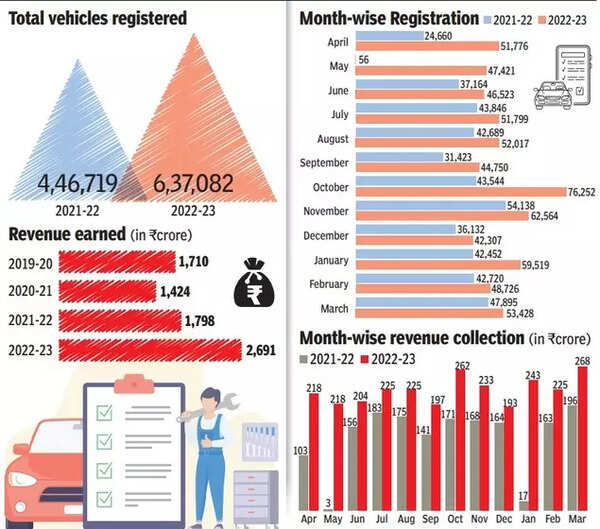 Except May, September and December, all other months of the financial year saw the transport department earning more than Rs 200 crore collectively from MV Tax, parking fee, addition of hypothecation (when a vehicle is financed by a financial institution), fitness fee, charges for making the plastic card (for registration certificates and driving licences) and transfer of ownership of vehicles.
The transport department made a staggering Rs 268 crore in March 2023, the highest for any month during the last fiscal, from various kinds of fees, but the most number of new private and commercial vehicles were sold in October 2022 (76,252). In October, the revenue collection was recorded at Rs 262 crore, followed by Rs 243 crore in January 2023 and Rs 233 crore in November 2022.
In terms of the number of vehicles sold in the city, November was the second best month with 62,564 new set of wheels rolling out followed by January (59,519) and March (53,428). "An average of 1,745 new vehicles registered in the capital in 2022-23 in comparison to just 1,224 automobiles in 2021-22," said a Delhi government official.
The sale of automobiles had seen a dip in 2020-21 and 2021-22 due to Covid-induced lockdown and lack of economic activities across the sectors. "Though the sale of vehicles was good in 2022-23, it is yet to match the pre-pandemic level. We hope to see a massive registration of new vehicles in 2023-24," said another official.
Of Rs 53,565 crore of projected tax revenue in the new fiscal, the Delhi government has expected Rs 3,000 crore from taxes on motor vehicles.