AHMEDABAD:
GST
collection in
Gujarat
surpassed the Rs 1 lakh crore mark in fiscal 2022-23 to touch Rs 1.14 lakh crore. With this, the total tax mop-up in the state grew 17.5% during the fiscal. The rise in commercial activity after the lifting of Covid-related restrictions during the year coupled with inflation are among the key reasons for growth in the tax collection in Gujarat.
At the time of the GST roll-out, the Centre used to compensate states to ensure a protected revenue growth at 14% per annum for five years. Fiscal 2022-23 was the first year since the Centre stopped compensation to states. Yet, GST collection in Gujarat grew 17.5%, indicating the state is well-positioned to maintain its revenue inflows. This, in fact, is the highest growth rate since the new tax regime was rolled out except for the 30% growth during FY22, albeit on a lower base of tax collection during the pandemic year FY21.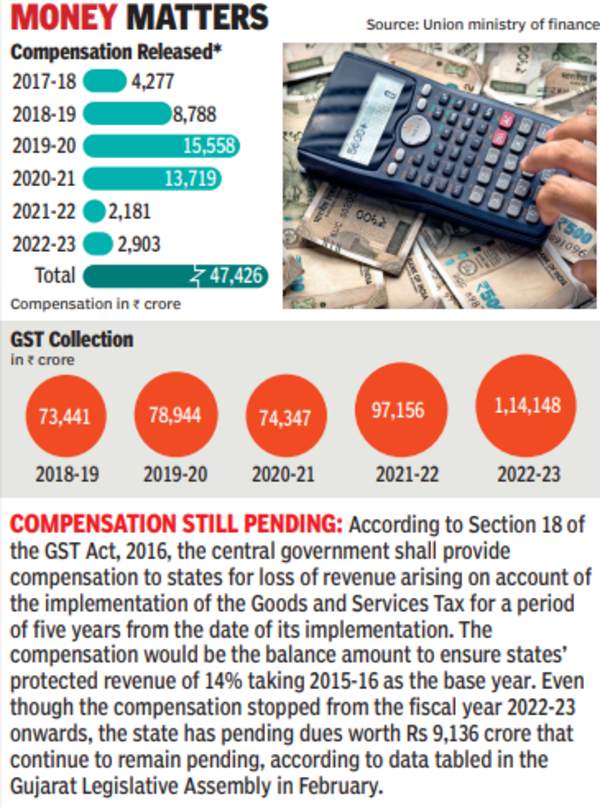 SGST department sources attribute the growth in tax collection to stringent measures to curb evasion in addition to inflation and revival in the economic and commercial activity.
Industry players, however, assert that inflation is one of the key reasons for the rise in tax collection. "Raw material and finished goods prices across industrial sectors have increased during fiscal 2022-23. This is one of the key reasons for the rise in tax collection numbers. Moreover, in July last year, the GST council raised the GST rates from 12% to 18% wherever the works are awarded by a government entity or government authority. This also contributed additionally to the tax inflows," said Pathik Patwari, president, the Gujarat Chamber of Commerce and Industry (GCCI).
During the year, Gujarat's income through SGST (Rs 65,746 crore) and value-added tax (VAT) on non-subsumed items (Rs 38,037 crore) stood at Rs 1.03 lakh crore in FY2023.
In March, the state's GST mop-up stood at Rs 9,919 crore up 8.3% against Rs 9,158 crore during the same month last year.