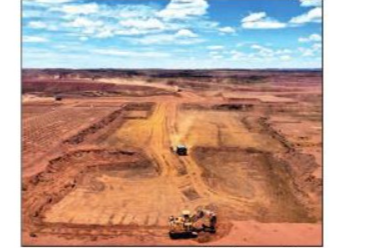 A consortium of energy companies led by BP plans to cover a remote parcel of land in the Australian Outback as large as New York City with as many as 1,743 wind turbines, each nearly as tall as the Empire State Building, along with 10 million or so solar panels and more than 1,000 miles of access roads to connect them all. (The Outback is the vast, unpopulated areas that comprise Australia's interior and remote coasts).
But none of the 26 gigawatts of energy the site expects to produce, one-third of what Australia's grid currently requires, will go toward public use. Instead, it will be used to manufacture a novel kind of industrial fuel: green hydrogen. This patch of desert sits next to the biggest problem that green hydrogen could help solve: vast iron ore mines that are full of machines powered by immense amounts of dirty fossil fuels. Three of the world's four biggest ore miners operate dozens of mines here. Proponents hope green hydrogen will clean up not only mining but also other industries by replacing fossil fuel in steelmaking, shipping, cement etc.
Green hydrogen is made by using renewable electricity to split water's molecules. (Currently, most hydrogen is made by using natural gas, a fossil fuel. ) The hydrogen is then burned to power vehicles or do other work. Because burning hydrogen emits only water vapor, green hydrogen avoids carbon dioxide emissions from beginning to end.
In the Pilbara region of Western Australia and in dozens of spots around the globe endowed with abundant wind and sun, investors see an opportunity to generate renewable electricity so cheaply that using it to make green hydrogen becomes economical. The Outback project is one example of a global gamble, worth hundreds of billions of dollars, being made by investors, including some of the most polluting industries in the world.
Last year, government subsidies sped up action in the
European Union
, India, Australia, the United States and elsewhere. "We are about to jump from the starting blocks," said Anja-Isabel Dotzenrath, who once led Germany's biggest renewable energy company and now runs BP's gas and low-carbon operations. "I think hydrogen will grow even faster than wind and solar have. "
For green hydrogen to have a substantial climate impact, its most essential use will be in steelmaking, a sprawling industry that produces nearly one-tenth of global carbon dioxide emissions — more than all the world's cars. In climate lingo, steel emissions are "hard to abate. " Blast furnaces, freight trains, cargo ships and the gargantuan trucks used in mining require heavy fuels like coal and oil. Even if they could be electrified (today many can't be), they would still strain grids.
Day and night, 2-mile-long ore trains weighing over 90 million pounds depart Christmas Creek for Port Hedland. From the port, an endless stream of cargo ships (once again, burning heavy fuel) sail for East Asia, where ore becomes steel in coal-burning mills. Nearly 40% of the world's iron ore comes from the Pilbara.
The mine's owner, Andrew Forrest, is one of the most bullish backers of green hydrogen. He spoke two years ago about the rapid switch his company Fortescue Metals Group would make towards green energy. Fortescue and BP are vying for the lead in green hydrogen and have announced plans to invest hundreds of billions of dollars in projects across dozens of countries beyond Australia.