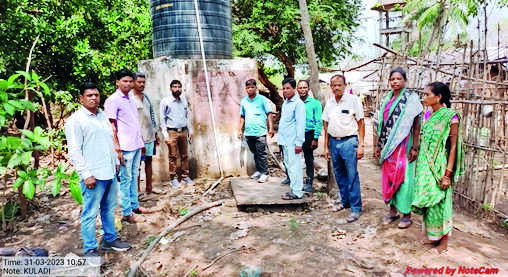 Berhampur: The Ganjam district administration has stopped construction of an overhead tank being built by the Andhra Pradesh government at Kuladi village located on the Odisha-Andhra Pradesh border.
"We have asked the contractor to stop the construction till demarcation of the construction site on the Odisha-Andhra Pradesh border," said collector (Ganjam) Dibya Jyoti Parida on Saturday.
He said the district administration would lodge a complaint with the Srikakulam district administration in Andhra Pradesh, if it finds the water tank was being built on Odisha land.
The construction of overhead tank was started at tribal-dominated Kuladi village in Patrapur block's Tumba panchayat by Andhra Pradesh government three months ago to supply water to nearby villages, sources said. On Friday, a team of officers visited the village following complaints about the construction.
"The construction was going on during our visit, but we asked the contractor to stop it," said an officer, who visited the site.
Junior engineer, rural water supply and sanitation (RWSS), Patrapur block, Robert Pradhan said the Andhra Pradesh government has built a 30,000-litre capacity overhead tank in Kuladi village to supply water to Kuladi and Tikarapada villages.
"We already have spring-based water supply system in Kuladi and its adjoining villages. Every household of the village is being supplied with gravity-based water through the pipe from the springs," he said. Also, an alternative solar-based water supply has also been started for the villages, he added.