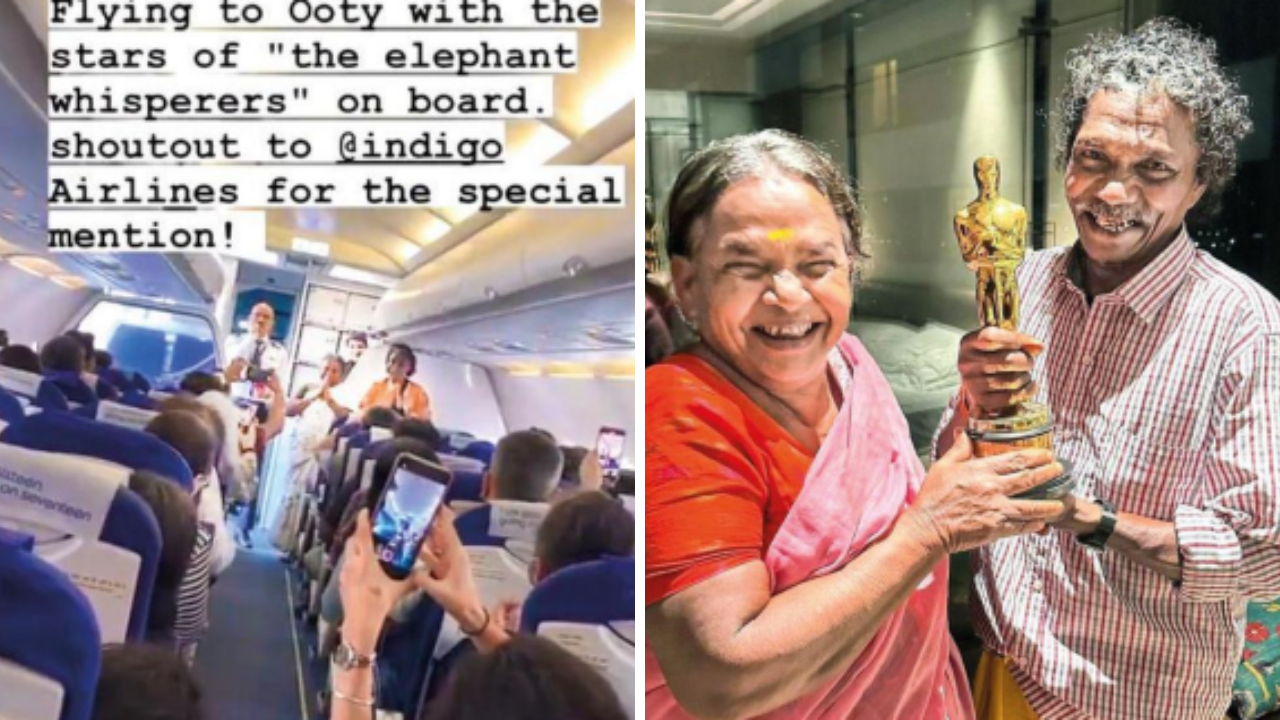 UDHAGAMANDALAM: The stardom of mahout Bomman and his wife Bellie touched the skies on Friday, when the pilot of their Coimbatore-bound Indigo flight announced to the passengers on board that they were travelling with the stars of Oscar-winning short documentary film 'Elephant Whisperers'.
Bomman and Bellie, who were returning home after meeting the crew of the documentary in Mumbai and attending a felicitation ceremony, were caught unawares when the pilot made the in-flight announcement honouring them. "Flying with the stars of 'Elephant Whisperers' on board. How lucky we are to have them on board," the pilot said and asked the passengers to give a big applause to the couple. In gratitude, Bomman and Bellie stood up with folded hands.
"They are not actors. They are real people," the pilot went on to add, even as the co-passengers continued clapping. The video of the incident has gone viral on social media.
Indigo's official twitter account said, "Flying with the team was a delightful experience. Congratulations to the complete cast and crew of the 'Elephant Whisperers' on their well-deserved Oscar win. Thank you for sharing with us."
Life hasn't been the same for the mahout couple ever since the short documentary film depicting their poignant bonding with orphaned elephant calves Raghu and Bommi at Theppakadu elephant camp in the Mudumalai Tiger Reserve in the Nilgiris won the Academy Award. Bomman and Bellie told TOI, "In fact, it's Raghu and Bommi who brought fame to us and the Nilgiris." The couple want to take care of a new orphaned elephant calf on the request of the forest department.