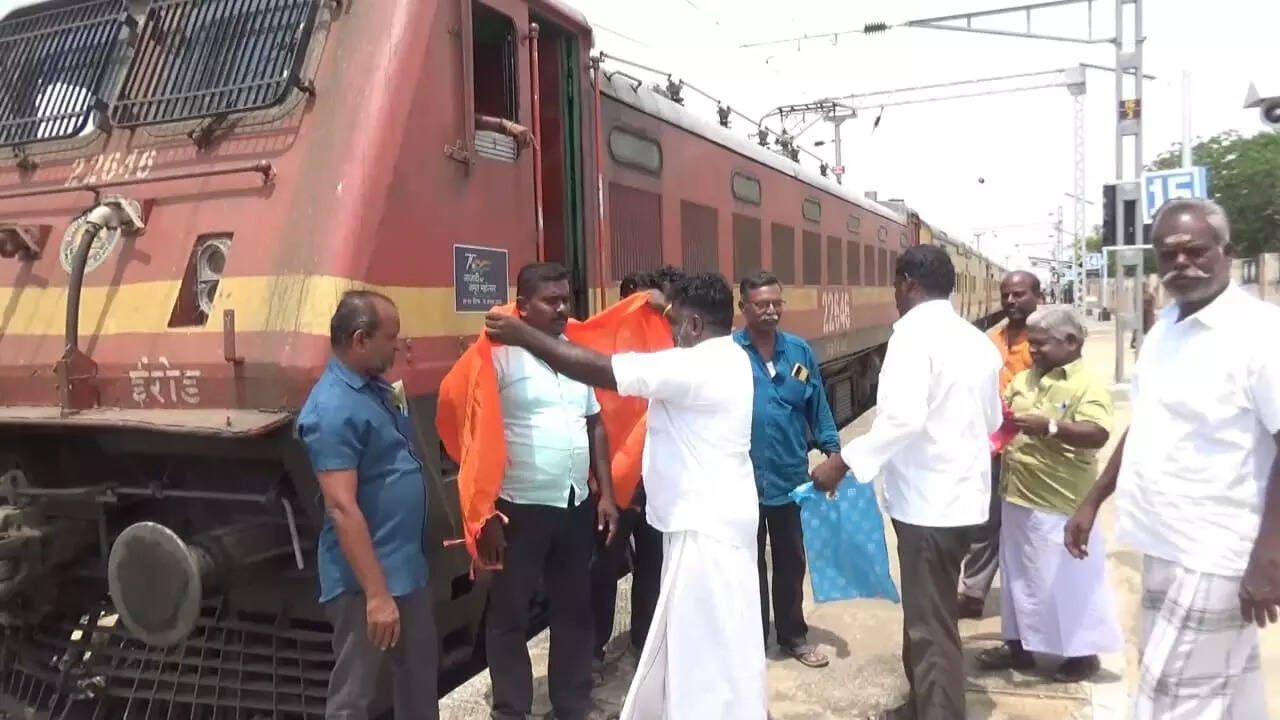 MADURAI: A group of rail users on Wednesday gathered at Seithunganallur railway station in Tuticorin district and honoured the loco crew and other railway staffers after electric locomotives started hauling
trains
on the 100-year-old Tiruchendur – Tirunelveli railway line. The section was certified in December last year and was energized.
On Wednesday, all the trains including Tiruchendur Express were hauled by electric locomotives replacing diesel locomotives. Tiruchendur – Tirunelveli railway line was laid and inaugurated by Tinnevelly District Board of British Raj in the year 1923 to ferry men and materials, including salt the region is famous for. The 70km meter gauge line was dismantled in 2006 for gauge conversion and the broad gauge line was inaugurated in 2009.
Apart from the usual passenger train traffic from Tirunelveli, the line also got the first direct train connectivity to Chennai when Chennai Egmore – Tiruchendur biweekly express was flagged off in 2009 after gauge conversion.
The line was being converted into electrical traction from 2019 and the work was completed in December 2022. Principal chief electrical engineer of Southern Railway A K Siddhartha inspected the electrical line and certified it for the traction. Accordingly, the section was energized with 25,000 Watts electricity.
Sources from Madurai Railway Division said that the trains which left to Tiruchendur on Tuesday night were attached with electrical locomotives and the traction commenced. When the rail users realized the change by Wednesday morning, they decided to celebrate it. The villagers from Seydunganallur assembled at the station on Wednesday morning and honoured the Tirunelveli – Tiruchendur unreserved express special train crew and the station officials.
Southern Railway announced that all the trains running on the section would be speeded up effective from March 31. Train No 16105 Chennai Egmore – Tiruchendur Express was speeded up by 1.10 hours while Train No 16106 Tiruchendur – Chennai Egmore Express has been speeded up by one hour. All other express trains running in the line have been speeded up by 5 to 15 minutes since the speed has been increased from 70 kmph to 110 kmph.