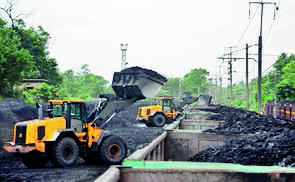 Bhubaneswar: East Coast Railway (ECoR) has loaded 240 million tonnes (MT) of freight in the 2022-23 fiscal, becoming the first railway zone to achieve the target, officials said. It had lifted 232.1 MT of freight in 2021-22.
ECoR is also the only railway zone which has crossed 220 MT, 230 MT and 240 MT freight loading milestones in the current fiscal.
The railway ministry had set a target to load 240.6 MT for ECoR and it has successfully achieved the target for the financial year 2022-23, said an official statement.
"ECoR has loaded on an average of about 10,000 wagons per day during the current fiscal, the best performance. We achieved the target despite facing many challenges and adverse conditions," said an ECoR spokesperson.
South East Central Railway (SECR) followed with 214.58 MT freight loading in 2022-23, while South Eastern Railway (SER) bagged the third position with 202.61 MT.