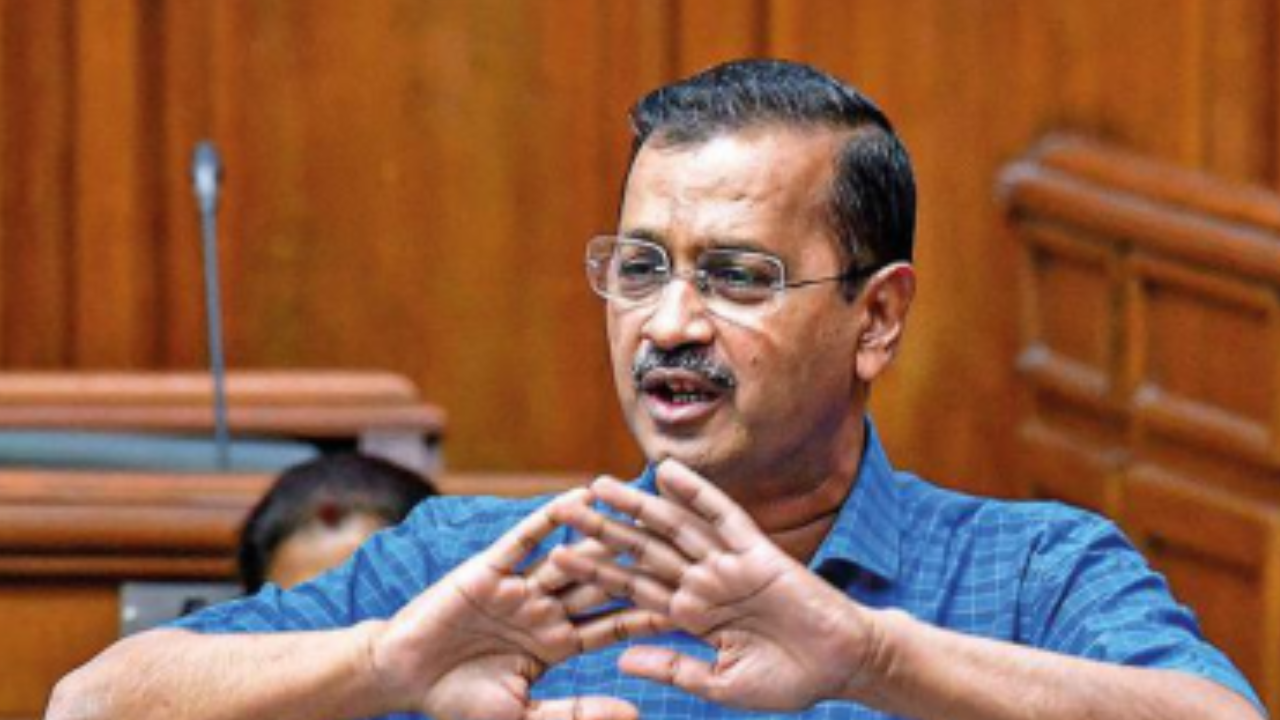 NEW DELHI: Despite the surge in Covid-19 cases in the city in the last few days, chief minister Arvind Kejriwal on Friday reassured that there was no reason to worry and the government was "fully prepared" for any eventuality.
Addressing a press conference after reviewing Delhi government's preparedness to tackle a Covid wave, Kejriwal said only three deaths had been reported in the last 4-5 days and the deceased all had "severe" comorbidities. "It seems the fatalities were due to the comorbidities and Covid was incidental. But one can't say that with certainty," the CM said.
Admitting that coronavirus variant XBB.1.16, found to be predominant in 48% of the new cases, spread quickly but wasn't very severe, Kejriwal asked the people nevertheless to follow Covid-appropriate behaviour and recommended that those suffering from influenza-like illnesses or acute respiratory infection should wear masks.
He said Delhi had enough beds, with oxygen and ventilator facility, and the hospitals had been instructed to set up isolation wards for Covid patients. "We currently have 7,986 Covid beds, which includes those with oxygen supply, ventilator beds and ICU beds. Only 66 beds are occupied at the moment," the CM said, adding that the government also had sufficient ambulances and oxygen, the latter with storage capacity.
Cases of Covid began climbing early this month accompanied by a rise in positivity rate. As per health department data, Delhi recorded 295 fresh Covid-19 cases on Thursday at a positivity of 12.5%, slightly lower than the 300 new cases at 13.9% on Wednesday. On Thursday, there were 932 active cases. Delhi, however, was not named among the six states the central government identified as recording a rapid rise in coronavirus infection.
The health department is getting the genome sequencing of all positive samples done for timely identification of new variants. Kejriwal said so far, XBB.1.16 was the predominant variant, accounting for 48% of all positive cases. While infection may not be severe, it was invasive and had the capacity to infect the vaccinated persons as well, the CM said.
According to Kejriwal, random screening was being conducted on 2% of the passengers at Indira Gandhi International Airport. He added that the government had the capacity to conduct 4,000 tests per day at its facilities while more than one lakh tests could be conducted in private laboratories daily.
"All patients who are coming to a hospital with any issues or respiratory illnesses will be provided masks upon entry and they will be tested for Covid. Also, 5% of all patients with influenza-like symptoms arriving at the hospital will be tested," he said.
Giving details about the status of vaccination in Delhi, the CM said that nearly everyone above the age of 18 years had been vaccinated and 100% of those below the age of 18 years had got their first vaccination dose. Nearly 85% have also received the second dose. Delhi's vaccination status was much better than the national average, government officials said. The chief minister also said that almost all eligible people below the age of 18 had been given the second dose.
While Delhi government had conducted a mock drill earlier this week to assess the hospitals' preparedness, a similar drive will be carried out on April 10-11 as per the directives of the central government to check their readiness to fight the coronavirus.
When asked about regulations related to the use of masks, the CM said no new guidelines had been received from the central government. "The Centre has better expertise in this regard. As and when we receive any instructions on Covid-appropriate behaviour, we will take measures accordingly," Kejriwal said.