HYDERABAD: Hospital authorities are keenly observing the spike in Covid-19 cases in Delhi and Mumbai as all previous waves began from these metros and spread across the country. Also, hospitals have not started separate Covid wards at the moment as majority of the cases are being treated on out-patient (OP) basis. Nevertheless, once cases increase and account for 10% admissions, segregating beds and wards will be done, say sources.
"In the first 3-4 waves, the pattern was that it started from Delhi and Mumbai as a lot of international travellers land there from different countries. It then slowly spread to other states.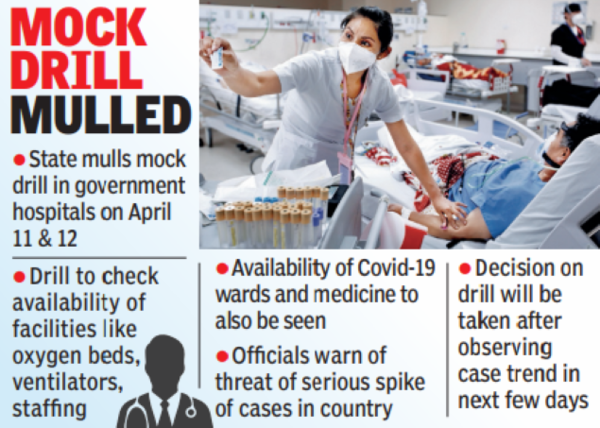 So, there is a likelihood that cases will spread again as we are already seeing a surge in these cities. However, right now, we are in the wait and watch mode as not many Covid admissions are seen even as cases have increased here too," Super Speciality Hospitals Association of Telangana president Dr Bhaskar Rao said.
Majority of cases being seen now are asymptomatic or even, if there were symptomatic, 1 in 10 patients were seeking admission. "Currently, the patients who are getting admitted are the ones with co-morbidities. In some cases, they have to be put on oxygen support, but these are very few," said Dr Kiran Madala, critical care specialist. "The basic infrastructure is already present and the only thing required is to have separate wards and cut down on non-emergency procedures," a health official said.