NEW DELHI: With the onset of summer, it is time for pools to reopen and
swimming
classes to resume. Though different strokes and dives from a height are useful for physical training, experts say negligence could lead to severe damage to spine and brain.
"Gauging the depth on the basis of visual perception alone can lead to a disaster for a novice. Due to refraction, the depth of swimming pools may appear lesser than it actually is. In such a scenario, we may expose ourselves to the risk of drowning as the pool is much deeper then it appears to be and there may not be any ground to rest on," said Dr Sumit Goyal, senior consultant, neurosurgery and head of neurointerventional surgery, PSRI Hospital.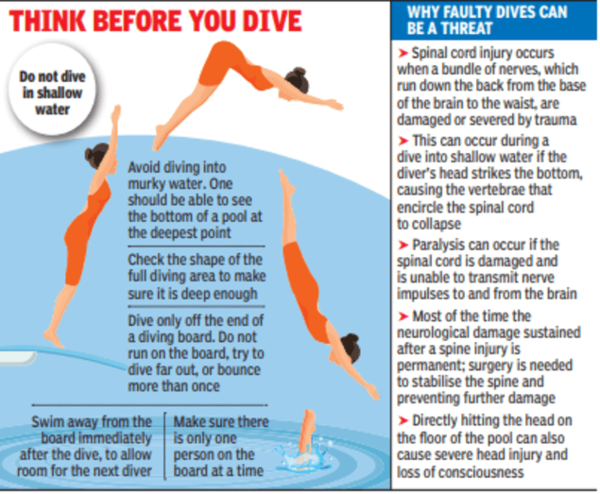 Diving into shallow or murky water can lead to severe brain and spine injuries and, according to doctors, one should check the shape of the full diving area to make sure it is deep enough.
"Diving into shallow water is like falling from a height. It could lead to musculoskeletal injuries. One may suffer neck spine fractures and even bone injuries. If the pool is not clean, then one can also suffer from primary amebic meningoencephalitis (PAM) – a rare brain infection that is caused by Naegleria fowleri and is usually fatal as the ameba passes through the nose to the brain," said Dr Vinit Suri, senior consultant, neurology, Indraprastha Apollo Hospitals.
Dr Goyal pointed to a recent case where a 23-year-old youth dived into a shallow pool and banged his head on the floor. He did not suffer any head injury, but complained of severe neck pain thereafter. His X-Ray revealed a fracture of the cervical spine with slipping of one of the cervical vertebrae over the other. Dr Goyal highlighted that this could have led to immediate and complete paralysis of the body with no definitive way to reverse the damage.
"Fortunately, he underwent surgery of the cervical spine with fixation using plates to restore order. Cervical spine injury is mostly unforgiving with a permanent residual paralysis or a bed-ridden state. Most times, the neurological damage sustained after a spinal injury is permanent and the surgery is aimed at stabilising the spine and preventing further damage, but no one can predict how much recovery will happen," said Dr Goyal said.
Besides spine injury, direct hitting of head with force on the floor of the pool can also lead to severe head injury and loss of consciousness, which can again have severe consequences.