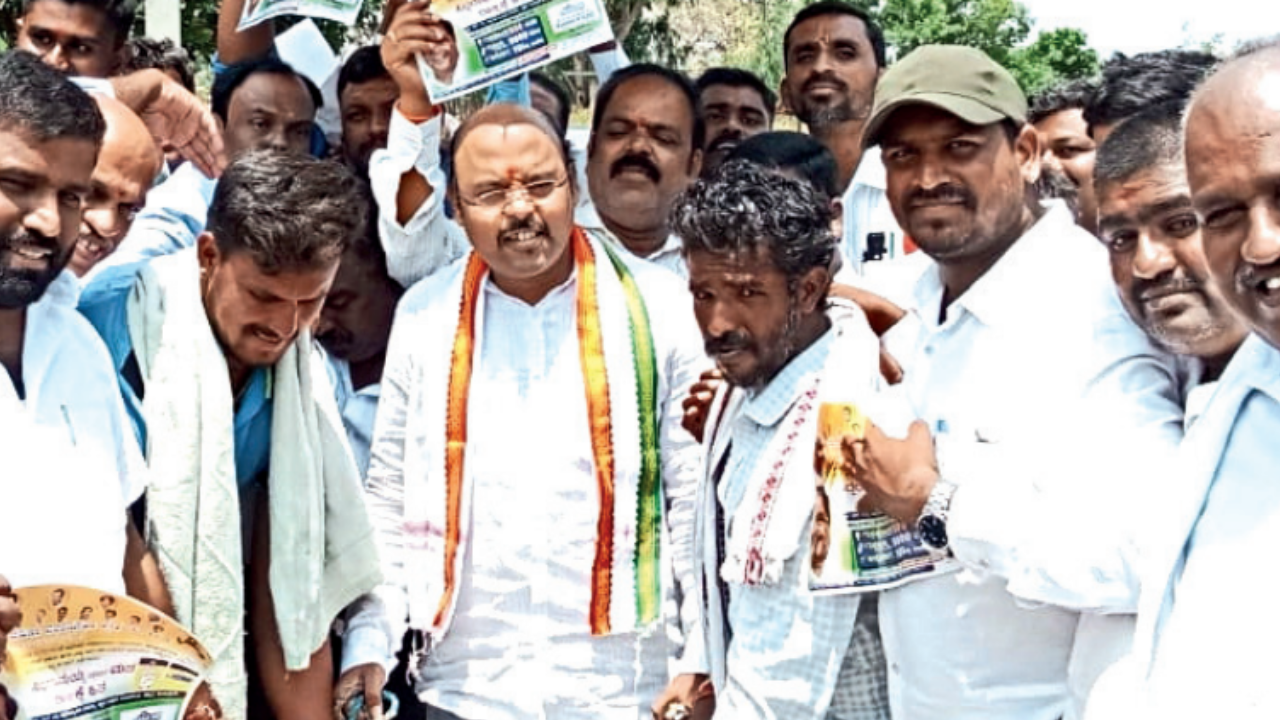 BENGALURU: The Congress is fearing a rebellion in several assembly seats even as it is gearing up to announce the second list of candidates for the May 10 elections. Signs to this effect are already emerging, with the supporters of ticket aspirants staging protests and indulging in fights in many parts of the state.
"There are about 20 seats where the party is having trouble finalising candidates owing to multiple aspirants. Ironically, in all these seats, there is a favourable situation," said a senior functionary. The party has already announced candidates for 124 seats and is expected to release its second list of 70 to 80 candidates next week.
The party has chosen former Union minister KH Muniyappa for Devanahalli seat in Bengaluru Rural district but the local unit is not happy. Citing Muniyappa from neighbouring Kolar as an outsider, the functionaries held a meeting on Saturday and urged the high command to reconsider its decision. C Srinivas, who has been active in the constituency for the past three years, and five others were in the race for the ticket.
In Kalaghatagi seat in Dharwad district, former minister Santosh Lad and party functionary Nagaraj Chabbi have been fighting for tickets. While opposition leader Siddaramaiah is backing Lad, KPCC president DK Shivakumar is batting for Chabbi. It is learnt that Lad has already been approached by BJP. "If Congress denies him a ticket, chances are high that he will join BJP," said a source. Lad won the seat twice before losing it to the BJP's Nimbannavar in 2008.
In Kittur, the party has so far not been able to strike a truce between the party's old warhorse DB Inamdar, and his relative, Babasaheb Patil, who have been leaving no stone unturned to get the ticket. Now that Inamadar is facing health issues, his supporters are seeking tickets for his son or daughter-in-law. On the other hand, Babasaheb is reportedly backed by KPCC working president Satish Jarkiholi, party MLA Lakshmi Hebbalkar, and former minister Vinay Kulkarni.
Former primary education minister Kimmane Rathnakar and Manjunath Gowda are vying for the Thirthahalli seat in Shivamogga. As both are formidable candidates, the party cannot afford to keep either of the two unhappy. On Saturday, KPCC president DK Shivakumar met with both parties in an attempt to reach an agreement. The outcome is yet to be known.
The party is also facing an uphill task in Molakalmuru reserved seat in Chitradurga district. The state leadership is said to be in favour of fielding Hanumantappa, who is set to join the party after quitting BJP. The BJP MLA from Kudligi in Ballari district had resigned his assembly membership on Friday. But the local functionaries are rooting for Bangaru Hanumant. They held a protest in Bengaluru last week.
In Chikkamagaluru, the functionaries are opposing the candidature of Thammaiah, who joined the party recently. Thammaiah was a staunch supporter of BJP MLA CT Ravi. The Congress workers indulged in a scuffle over the matter on Saturday.