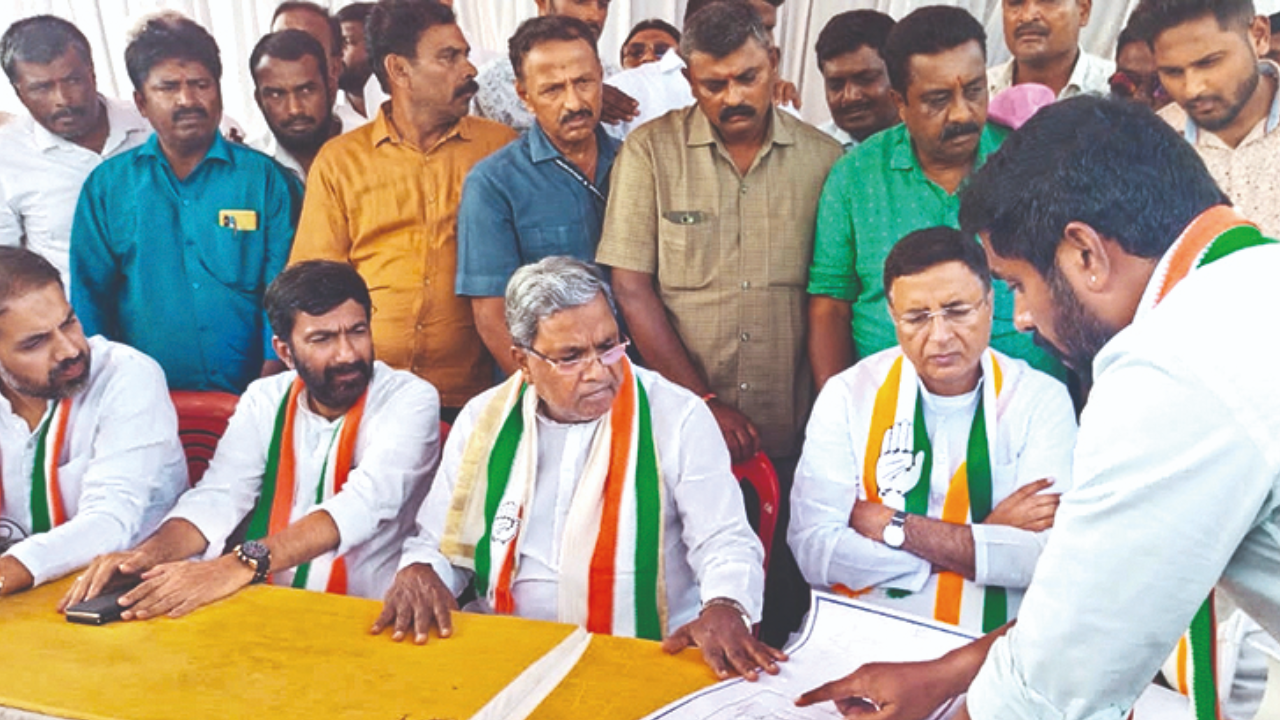 BENGALURU: One of the several key reasons attributed for Congress' poor performance in the 2018 assembly polls in Karnataka was that then chief minister Siddaramaiah, being the mass leader and star campaigner of the party, did not do enough
justice
to his role since he got tied up fighting his rivals in two constituencies he contested from.
Siddaramaiah, who is nursing chief ministerial ambitions if the party wins the May 10 assembly polls, has once again hinted at contesting from Varuna and Kolar, much to the concern of the party leadership and candidates.
"Siddaramaiah will put himself in a non-enviable position if he contests from two seats. If he devotes more time to his constituencies, the other Congress seats may suffer. If he ignores his seats, he may risk losing both," said a senior Congressman.
While the party has already fielded him from his home turf of Varuna (Mysuru district), Siddaramaiah, who has announced that the 2023 polls would be his last, has said he is keen to contest from Kolar too. Varuna is currently represented by his son Yathindra.
The high command has not yet announced any candidate for Kolar, and Badami, which Siddaramaiah currently represents, which signals that they may consider his plea. If Siddaramaiah contests from two seats,
BJP
and JD(S) may leave no stone unturned to give him some trying moments.
Last time, they had fielded strong candidates from the two seats which Siddaramaiah contested from to restrict him to his two seats. While BJP fielded its heavyweight from Scheduled Tribes (ST) B Sreeramulu in Badami, JD(S) chose local strongman GT Deve Gowda in Chamundeshwari. BJP, on the other hand, fielded comparatively weaker candidates Gopal Rao and Hanamanth Mavinmarad to ensure a tough fight for Siddaramaiah, who eventually managed to win only from Badami by a slender margin. The tough fight ensured the former CM gave less time to campaign for other party candidates, helping both BJP and JD(S) improve their tally.
The other aspect the leadership is worried about is that the opposition may use the former CM's "insecurity" to dent the party's prospects. During a rally in 2018, PM
Narendra Modi
raked up Siddaramaiah's decision to contest from two seats, calling it a '2 + 1 formula', and alleged that the latter was afraid of defeat.
Former council chairman BL Shankar said the situation this time will be different from 2018 since Siddaramaiah may not face a tough contest because Varuna is his erstwhile bastion and he has solid support of some powerful local functionaries, including KR Ramesh Kumar, Krishna Byre Gowda, KH Muniyappa and K Srinivas Gowda.
Some functionaries said Yathindra has earned a good name for being "polite and reciprocal". "He will take care of the campaigning in Varuna when his father is touring across the state," they added.