GURGAON: An 18-year-old college student was found dead in a swimming pool in a farmhouse in Bhondsi where he had gone for a party with around 40 friends on Saturday night.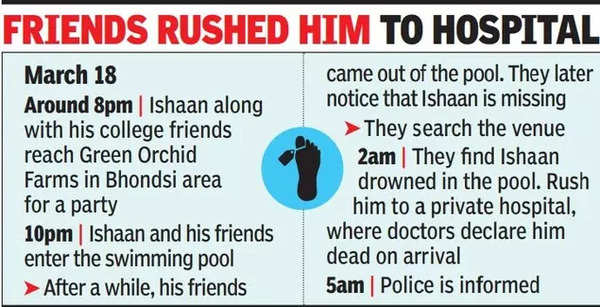 Police said they were investigating if Ishaan Aggarwal, a BCom first-year student of Guru Gobind Singh College of Commerce in Delhi, was murdered or he drowned in the pool.
They were talking to his friends and parents to ascertain if Ishaan knew swimming.
On Saturday, Ishaan and his friends from the college in Delhi's Pitampura planned a get-together at Green Orchids Farms in Bhondsi.
"There were around 40 of them. Late in the evening, I got the shock of my life when one of his friends called me up and told me Ishaan had drowned in the swimming pool and they were taking him to hospital. We rushed to Gurgaon. But by then, doctors had declared him dead," Anil Kumar, Ishaan's father, told police on Sunday.
According to Kumar's statement to police, Ishaan had joined the others in the shallow side of the pool.
"His friends came out of the pool after some time. A little later, when they did not find him, they checked the farmhouse as well as its surroundings, but to no avail. Someone found him at the bottom of the pool and alerted the others. He was rushed to a private hospital, where doctors declared him dead on arrival," he further added.
Kumar alleged there was no basic safety equipment like life jackets present in the farmhouse. "Neither was there any swimming coach."
Police said they were informed about Ishaan's death by the hospital authorities. "We got a call around 5am. A police team was sent to the hospital to initiate an investigation," said Ajay Kumar, the SHO of Bhondsi police station.
The police said they would check if the farmhouse had safety equipment in place for swimmers.
"We have launched a detailed investigation on the allegations levelled by the family members. Team has been formed to check CCTV footage for clarity in the sequence of events. We are probing the case from all angles," the SHO said.
An FIR has been registered against the farmhouse owners under sections 304A (causing death by negligence) and 34 (common intentions) of the Indian Penal Code (IPC) at Bhondsi police station.