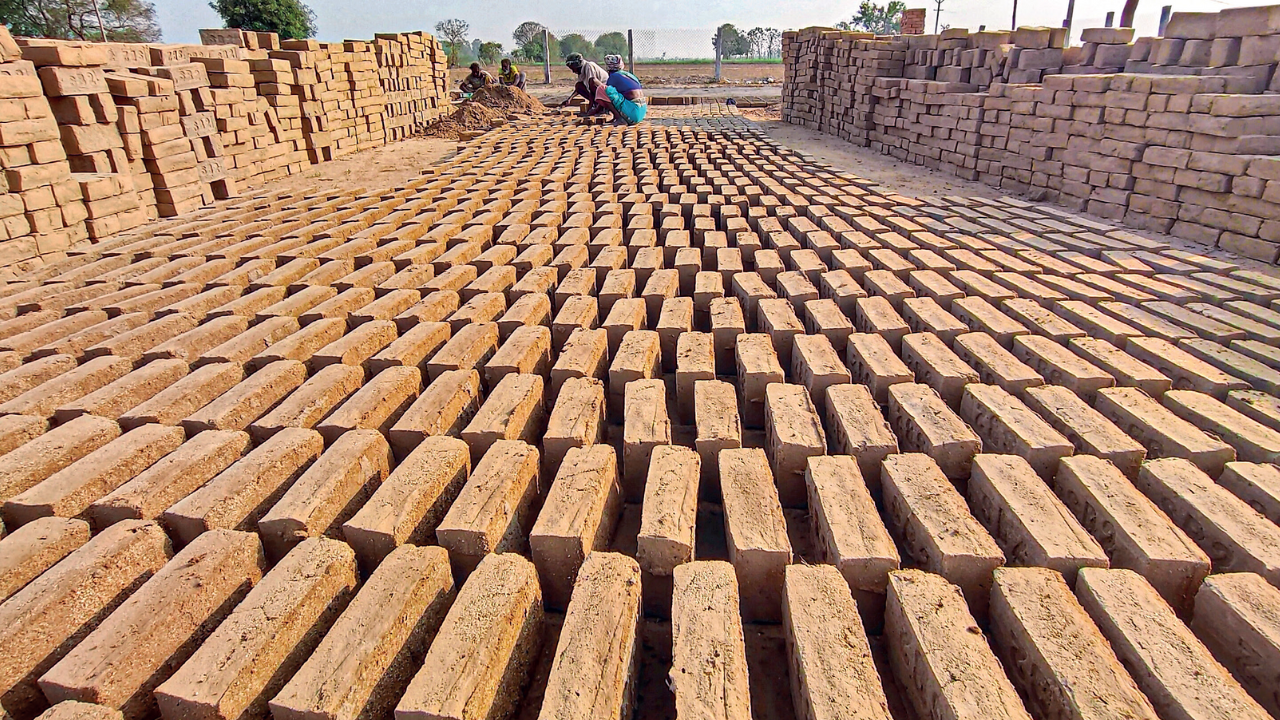 CHENNAI: Never in his dreams did S Ezhumalai, a rescued bonded labourer in Pinjivakkam village in Tiruvallur, imagine that one day he would own a brick kiln. Today he does. "I own a kiln with three of my neighbours," says Ezhumalai. "It's a different feeling, to finally own something. "
The brick kiln in Pinjivakkam, which opened for business in February, is the second of its kind in Tiruvallur district. It was set up b y Tiruvallur district collector Alby John, who with his discretionary fund, built the kiln and h anded ownership over to the lab ourers in Pinjivakkam.
The first brick kiln was set up in Veeraganallur village near Tiruttani in April last year. "I set theseup because I wanted them to have a permanent place to live. I also wanted to help them get out of a life of bonded labour," says John.
Ezhumalai says that for three generations he and his family worked as bonded labourers in a nearby sugar mill. "We were rescued in 2005, and we started working in agricultural fields. One day, t he collector, who knew of our settlement, set these kilns up for us and put us in charge of them," says Ezhumalai. With the profits from t he from kiln, Ezhumalai is confident he can finally educate his children. "Setting up brick kilns for rescued labourers is part of the threepronged approach of prevention, protection and rehabilitation to abolish bonded labour," says John.
"Often, rescued bonded labourers are not tracked. So they end up as bonded labourers again in a different place. They have no permanent homes and they rack up a great deal of debt. I hope these kilns will give them a sense of belonging. "
John began his rehabilitation mission in 2021, when he was appointed collector of Tiruvallur. "A group of rescued bonded labourers met me seeking permanent jobs to improve their livelihood," he says. It was then the collector decided to implement a series of m easures to rehabilitate. The first was setting up a brick kiln. "There is very little needed in terms of infrastructure. You just need a shed to get started. Also, the number of benefi ciaries is more. " The brick kiln in Veeraganallur was set up at a cost of ₹15 lakh which includes the cost of the shed for ₹10 lakh and ₹ 5 lakh as capital to purchase all the required instruments and to pay their salaries for the first couple of months.
"They were given permission to take soil for free. We also promised to buy back all the bricks they make," says John.
The bricks made in Veeraganallur kiln were bought by the district administration to construct houses under the PM Awas Yojana scheme. "In that way we ensured they get paid an d they wouldn't have to go in search of building contractors to sell bricks. So far, more than 1. 6 lakh bricks have been made at the Veeraganallur kiln," says John.
For the first kiln, 40 labourers and 60 woodcutters were roped in. All the 100 are employees as well as part-owners of the kiln, getting a salary for the work they do as well as sharing in the profi ts. One of the beneficiaries, R Kala, who was rescued from a brick kiln in Muruganpattu, says, "I was not educated and so I never knew how much I was being paid for my wor k. " With no track of her wages or the days gone by, Kala ended up working at the kiln for more years than she had initially agreed to. "It's not the life I wanted for my kids and so after I was rescued, I resolved never to walk into that trap again. I approached the district administration for employment, and now I cannot believe how my life has changed," she says.
Kala has four children, all of whom she has educated. Kala has also learned to calculate her salary by tallying it with the number of bricks she has cut. "For every brick I make I get ₹1. But I also get to share in the profits bec ause I am a part-owner of the kiln," says Kala. Apart from setting up brick kilns, John has taken various measures to eradicate bonded labour such as giving them patta and allotting them houses. Some others were given fishing nets, financial assistance to set up country chicken poultry farms, and training in embroidery. "We have also ensured they all have Aadhaar cards, voter IDs and the CM's medical insurance cards. I call this mission as 'Siragugal' (meaning wings in Tamil)," says John.
"We also track migrant labourers. We are also holding meetings regularly with other brick kiln owners to ensure they do not employ bonded labourers," he says.