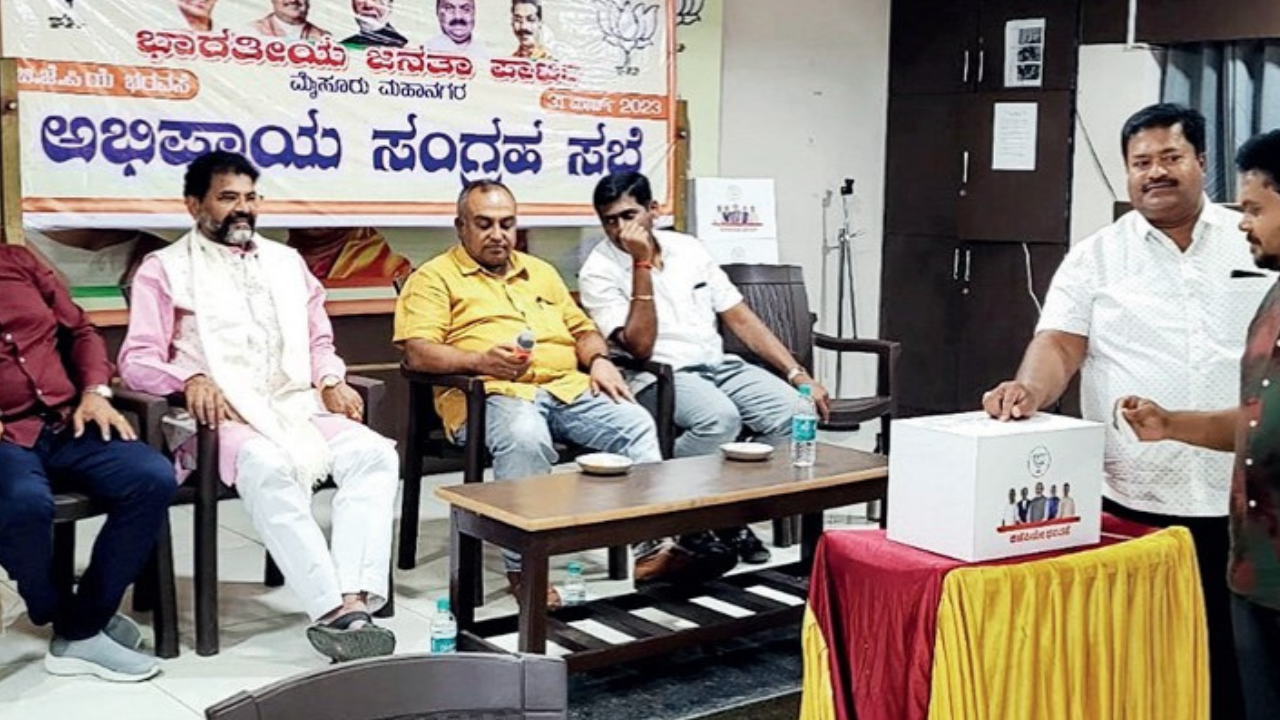 BENGALURU: In a first,
BJP
has adopted the US presidential election model of conducting primaries to select candidates for the assembly elections and has rolled out an elaborate selection process at the constituency level. The saffron party on Friday held elections to draw up a list of three possible candidates for each of the 224 assembly seats. Grassroot party workers formed the electorate. Unlike Congress and JD(S), the two opposition parties, which revealed their first lists even before the announcement of elections, BJP chose to wait for the actual poll process to begin.
With the Election Commission of India (ECI) declaring the calendar of events, the party has now launched the process of electing candidates. "Like primaries in the US, voters here were office-bearers of party units in each seat," said Nir-mal Kumar Surana, state BJP vice-president. "The idea is to give party workers at the grass-roots a say on the issue and to ensure there is consensus among stakeholders on candidates. It will also quell possible dissidence." Two senior functionaries were deployed in each constituency as observers to oversee polling.
On an average, 150 party members voted in each assembly seat. The president and members of mandal committees (constituency block) and members of constituency units of seven mor-chas — women, SC, ST, OBC, youth, farmers, and minorities — were among the voters. Congress had experimented with the model in the 2014 parliamentary polls. This time though, the state unit invited applications from ticket aspirants. Each aspirant had to pay a fee of Rs 2 lakh to apply. BJP was critical of the move. "Congress turned candidate selection into a fund collection measure. It has led to discord among aspirants," said Chalavadi Narayanaswamy, a member of BJP's election management committee. "We are adopting the most democratic process involving grassroot workers," he added.
But BJP ticket aspirants, especially incumbent MLAs, are piqued by the move as there is no clarity on whether sitting legislators would be replaced by new faces based on the outcome of the 'primaries'. However, Surana insisted there is no confusion. "Sitting MLAs with winning ability need not be worried," he said. "The high command will decide on candidates based on various factors, in-cluding winnability and social justice, while considering the outcome of the constituency polls as the primary criterion."
As per the process, the three names for each constituency will be scrutinised by the district core committees in the presence of representatives on Saturday and Sunday. The state core committee is expected to meet early next week to prepare a list of probables based on the scrutiny. This list will be sent to the central parliamentary board. Senior functionaries said the parliamentary board is expected to announce the final list of candidates by April 10.