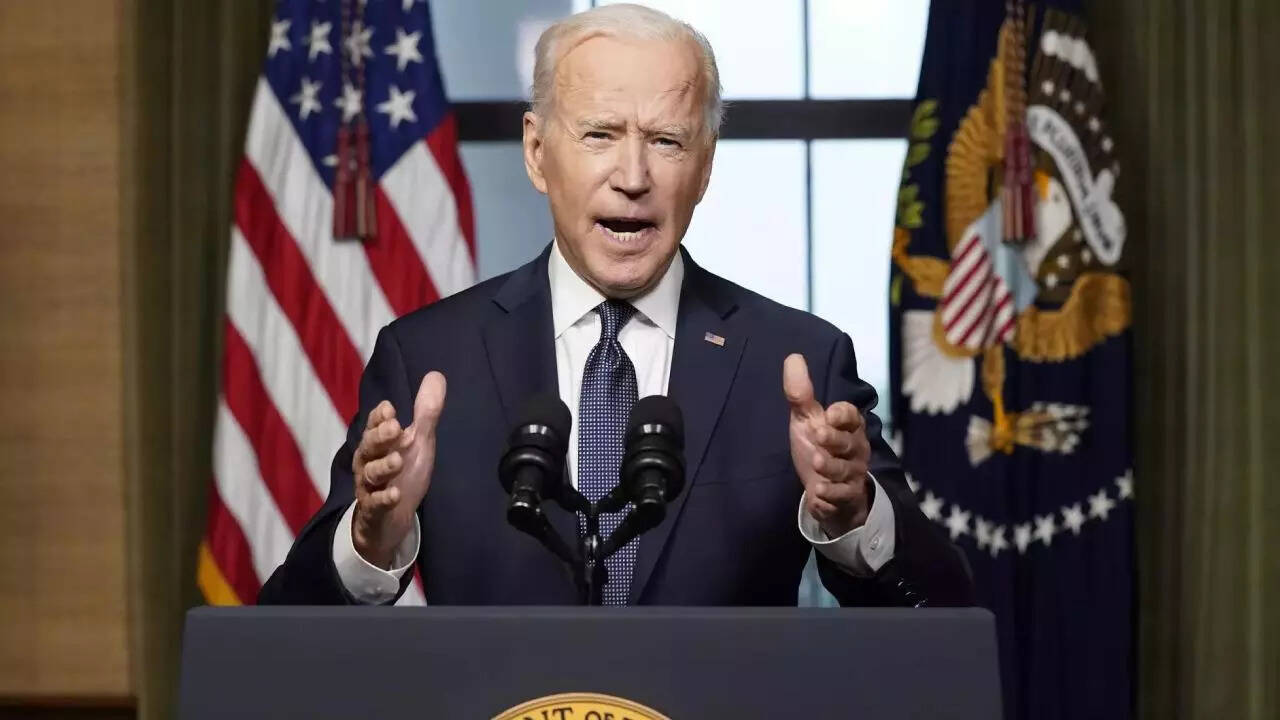 WASHINGTON: President
Joe Biden
has all but announced he's running for reelection, but key questions about the 2024 campaign are unresolved: Who will manage it? Where will it be based? When will he finally make it official?
Advisers have long said he planned to wait until after March, when the year's first fundraising period wraps up. That was an effort to help manage expectations because many donors who gave generously to Democratic causes during last fall's elections were looking for a break.
But an announcement isn't imminent even now, aides insist, and probably won't come until at least after
Biden
returns from an expected trip to Ireland in mid-April.
Working on his own timeline could counter Biden's low approval ratings and questions about his age – the 80-year-old would turn 86 before the end of a second term. It also means Biden won't be hurried by pressure from former President Donald Trump, who's already announced his 2024 campaign, or other top Republicans who may enter the race, including Florida Gov. Ron DeSantis or former Vice President Mike Pence.
"He's earned the luxury of making the timetable," said Brad Bannon, a Democratic strategist in Washington. "The longer he can keep this thing focused on his duties in the White House, and less about the campaign back-and-forth, the better off he's going to be."
That said, Biden aides are mindful that Trump has been indicted for his role in the payment of hush money to a porn actor, and they say Biden will look to time his announcement to a point when he won't share the political spotlight with the man he beat in the 2020 election.
Biden's inner political circle is ready to begin executing on the campaign's strategy from Day One and sees no drawbacks to the president taking his time. Biden faces no significant Democratic challenger for the nomination. The self-help guru Marianne Williamson is the sole contender at this point in the primary race.
It will also be up to Biden to decide where next year's Democratic National Convention is held among the three finalist cities of Atlanta, Chicago and New York. But with the logistical groundwork mostly laid, there is little pressure for that decision until the president is ready to make it, organizers say.
Much of the reelection effort will be run from the White House, where Biden's most senior advisers are expected to remain. Still, the campaign manager and top staff will be responsible for raising vast sums of money, reaching millions of voters and making the case for Biden at Americans' doors and online while he is still occupied with governing.
One top Biden adviser, who spoke on condition of anonymity to discuss a reelection campaign that hasn't yet been announced, noted that Biden's 2020 bid was a $1.7 billion operation and that the effort this time would be larger. The adviser said a key will be finding "validators," or non-Washington voices who can spread the campaign's message at a time when many people have lost faith in everything political.
Aides and allies are discussing how to build the appropriate 2024 race infrastructure. The circumstances are different from 2020 for Biden, whose race then was conducted while the country was largely shut down by the COVID-19 pandemic.
The political environment is different, too, as technological and cultural shifts have continued to change how people communicate. Biden's advisers are preparing a new model of campaigning fit for the moment to activate his base and identify and woo the persuadable center – essentially a customized communication strategy for each target voter.
Aba Blankson, chief marketing and communications officer for the NAACP, said her organization is nonpartisan but found success mobilizing Black voters – an important part of Biden's base – before last November's elections using similarly targeted political messaging. That included text messages, radio ads and knocking on doors to promote "peer-to-peer" organizing in areas capable of swinging pivotal races.
"I think his timing is what his timing is," Bankson said. "But, for us, it is an every-year reality."
The choice of Biden's campaign headquarters has been narrowed to Philadelphia, the 2020 location, and Wilmington, Delaware, where his home is and where the president spends many weekends away from the White House. While Biden tends to prefer Delaware on all matters, some top Democrats worry that recruiting top campaign talent to Wilmington will be difficult.
Biden waited until weeks after the start of his 2020 campaign to announce he had settled on Philadelphia, making a commitment to an important battleground state.
More challenging has been filling the job of campaign manager. Some potential candidates view it as a thankless task, with so much of the decision-making confined to the White House. Jen O'Malley Dillon, Biden's 2020 campaign manager, is now a deputy White House chief of staff and plans to remain in her job.
Among those on the short list are Julie Chavez Rodriguez, director of the White House Office of Intergovernmental Affairs and a deputy campaign manager of Biden's 2020 campaign, and Sam Cornale, executive director of the Democratic National Committee. Quentin Fulks, campaign manager for Georgia Sen. Raphael Warnock's reelection victory last fall, has been mentioned.
Biden led Democrats to a stronger than expected midterm performance in 2022 by urging voters to reject "extreme" adherents to Trump's "Make America Great Again" movement. So bringing in an outsider who ran successful Democratic campaigns last fall is a possibility. But party leaders acknowledge that breaking into Biden's famously tight inner circle has at times been challenging.
An exception is O'Malley Dillon, who was a late 2020 entrant to Biden's orbit after leading former Texas Rep. Beto O'Rourke's failed presidential bid.
Trump hasn't named a campaign manager despite announcing his candidacy months ago. But others aren't waiting to staff up.
Republican Nikki Haley, Trump's U.N. ambassador and a former South Carolina governor, picked Betsy Ankney, executive director of Haley's Stand for America political action committee, to manager her presidential campaign . The super PAC linked to DeSantis brought on former Trump aide Matt Wolking and strategist Jeff Roe, the architect of Texas Sen. Ted Cruz's 2016 presidential campaign and Republican Glenn Youngkin winning campaign for Virginia governor in 2021.
Even with the unanswered questions about his campaign structure, the outlines of Biden's pitch to voters are forming.
From the State of the Union address in February to speeches to donors, the president has begun making the case that Americans should let him "finish the job" he started. He's also tried framing the race as a choice between himself and "MAGA Republicans" who, he argues, will undermine the nation's core values.
Biden has spent recent months traveling to promote what he sees as his administration's key policy accomplishments, including a bipartisan public works package, and plans more of the same going forward. That would let him use this year to test political messaging that can best resonate in 2024, aides said.
"He's not going to win reelection or lose reelection based on what happens in his campaign," Bannon predicted. "He's going to win it based on his performance as president and the performance of his opponent, whoever it is."