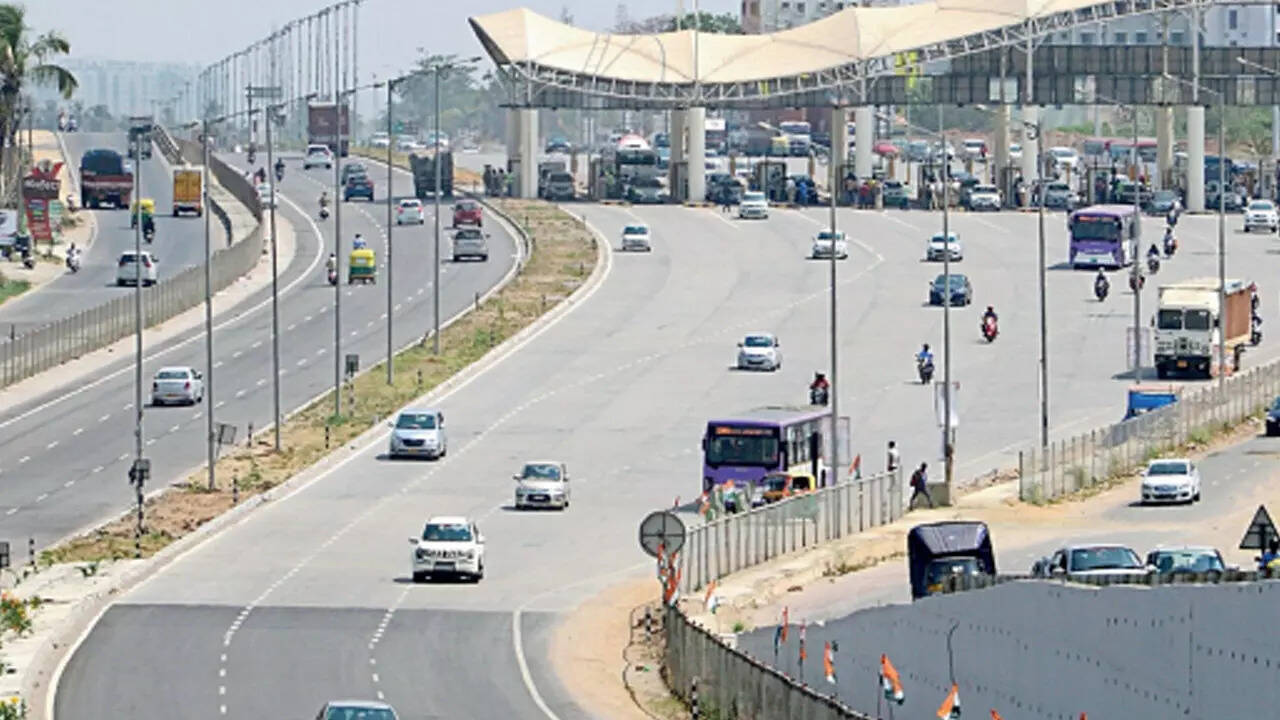 BENGALURU: The access-controlled state of the art Bengaluru-Mysuru expressway has become a venue for a political battle between BJP and the two opposition parties ahead of assembly elections in Karnataka.
While part of the route is already in use, it is expected to cut average travel time between Mysuru and Bengaluru to 75 minutes from the present 180 when fully complete. It is also expected to stimulate economic growth. But these potential benefits appear to have been eclipsed in the political fight of one-upmanship.
While BJP is determined to showcase the 118km, 10-lane road, built at a cost of Rs 8,500 crore, as its biggest achievement in the Old Mysuru region, Congress and JD(S) have been picking holes in the claim.
The expressway passes through Bengaluru Urban, Ramanagara, Mandya, and Mysuru, districts that are considered strongholds of JD(S) and Congress. BJP is promoting the expressway as a harbinger of economicprosperity in the region where it is desperately hoping to make major gains in the assembly elections.
However, BJP's plan to showcase the expressway as an example of its commitment to development has thrown up its own problems. Locals' ire over collection of hefty toll charges even for short distances, flooding of some stretches within a week of its formal inauguration, lack of access roads to major towns in politically significant districts of Ramanagara and Mandya, and incomplete work are factors oppositionparties are harping on to question BJP's claims.
There is also a sectarian subtext to the politicking: While BJP and Sangh Parivar are invoking the names of two Vokkaliga chieftains — Urigowda and Nanjegowda — who they say killed Tipu Sultan, JD(S) and Congress are pooh-poohing the two characters as figments of communal imagination.
An arch featuring Urigowda and Nanjegowda on the expressway was replaced at the last minute with one featuring Adichunchanagiri seer BalagangadharanathSwami hours before Prime Minister Narendra Modi's arrival to inaugurate the road about a week ago, providing more ammunition to the opposition's charge.
Some political analysts say poor planning seems to have hurt BJP's attempts to make inroads into the Vokkaliga belt. "Despite building a world-class expressway, BJP has failed to reap dividends. It continues to face flak largely because of some of its own slip-ups," said Vishwas Shetty, a political observer.
However, Aravind Bellad, BJP MLA, is certain the opposition would "pay" for "falsehoods" which he claims they have been peddling. "The mega infrastructure project is set to revolutionise the transportation and logistics landscape of the state," Bellad said. "The project is expected to boost trade and commerce and provide a major impetus to overall economic growth of the state. It is also expected to have a significant impact on the real estate sector, particularly in Ramanagara. Unfortunately, opposition parties are spreading falsehood for political gains, which they will repent. "
Claims incorrect: Congress
But senior Congress functionary and former PWD minister HC Mahadevappa said: "BJP is trying to take full credit for the expressway, which is not correct. The plan for the project was originally mooted by Congress when it was at the helm in the state in 2013 to 2018. That Siddaramaiah-led government also did all the land acquisition. Due to hurdles by the then NDA government at the Centre, the project could not be launched. "
JD(S) has been trying to focus on the narrative that the expressway is "pro-rich" and is of little benefit to poorer people who live in villages and towns along the route between the two cities.
Former chief minister and senior JD(S) functionary HD Kumaraswamy said the expressway will hit the livelihoods of 6,000 families as 2,600 small and medium businesses, including hotels, petrol pumps, and jaggery units would be deprived of commuters' business. "The highway is a death knell for the people of Mandya and Ramanagara districts," Kumaraswamy said.